Amazing!Strong Strip Lash GLUE!!
EMEDA Wholesale waterproff strip lash glue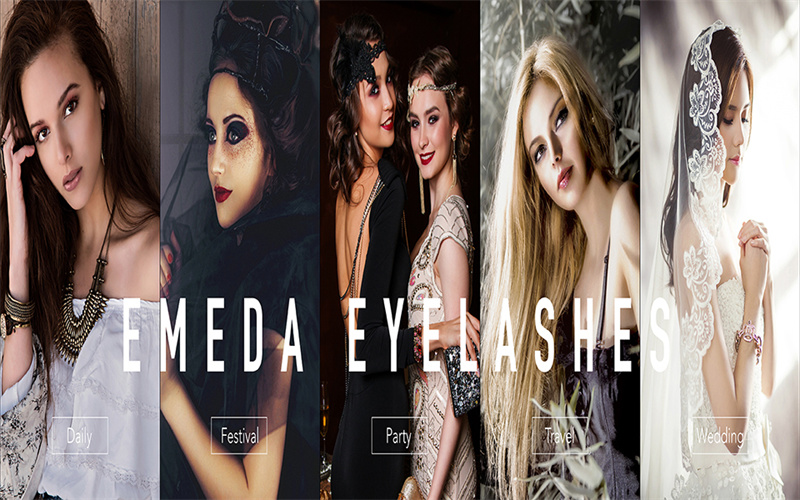 | | |
| --- | --- |
| Brand | EMEDA or your own brand |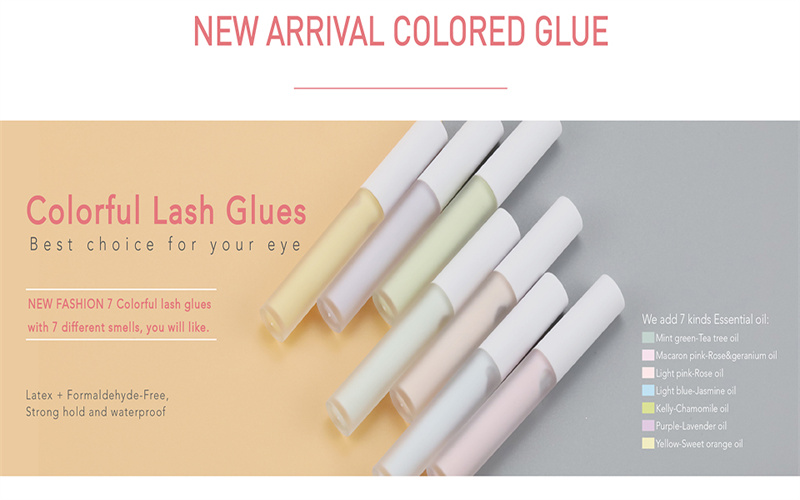 EMEDA Strip Lash Glue Description
You can choose your favourite from a package of seven different colours, or of course a gradient colour. The color of the glue package is pink gradient and purple gradient , mint green, macaron pink, light pink, light blue, kelly, purple, yellow. No matter what kind of packaging you choose, you won't be disappointed.

EMEDA Strip Lash Glue Advantages
PERFECT LOOK

This hypoallergenic and fast-drying adhesive dries clear, undetectable, waterproof, holds strip lashes securely in place and is easy to remove without damaging the natural lashes or irritating the eyes. Works best in all lash styles. Perfect for under lashes, beginners, natural and light colors, light density lashes, and feather lashes.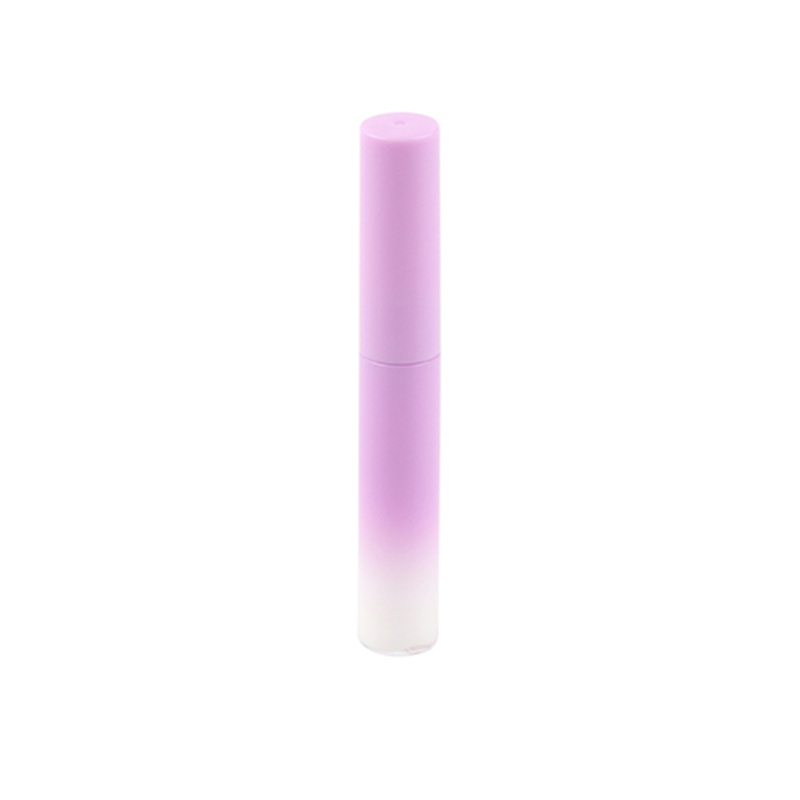 SECURES FAKE LASHES ALL DAY, ALL NIGHT
This lash glue makes sure that your falsies are always intact and stays perfectly aligned with your eye shape. It sets in second and is really strong to hold the lashes well for a long period of time, so you don't need to worry about your faux lashes falling off from your eyes. Our glue doesn't damage your eyes and eyelashes and you can be rest assured to use.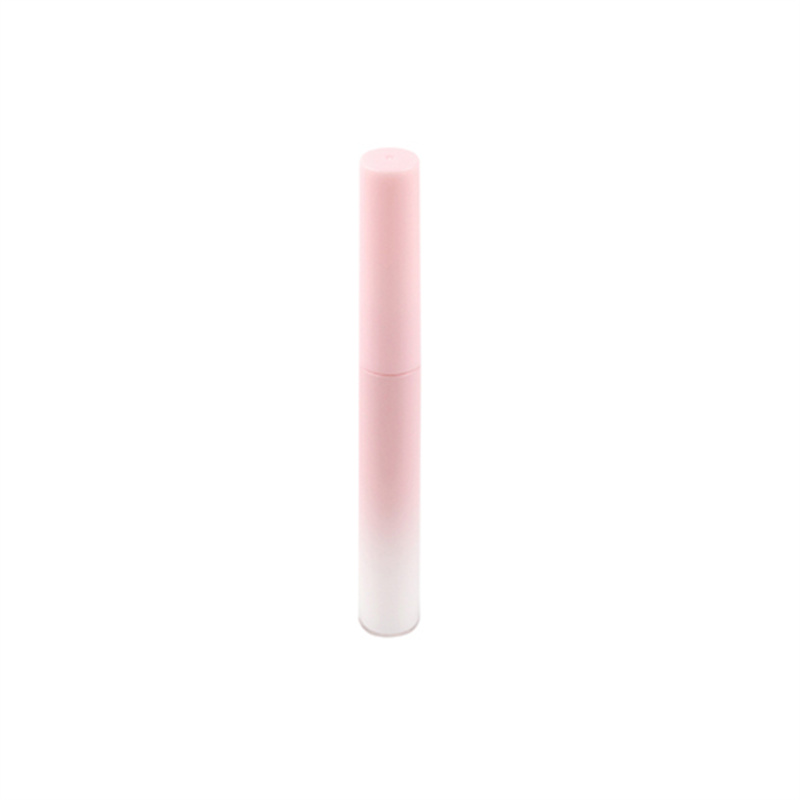 DRIES CLEAR, INVISIBLE FAUX LASH ADHESIVE

DUO Brush On Strip Clear Lash Adhesive, Clear blends well with your eyelashes completing your eye makeup while giving your artificial lashes a more natural, sultry look. It dries clear to keep your eye makeup perfect all day without worrying about smudging, creasing, or having a white film on your eyelids. Simply brush on a thin line on the lash band, wait for 30 seconds, and apply to lash. Captivate everyone's attention in less than a minute!
Easy and fast to use
With DUO Brush On Strip Lash Adhesive, applying lashes has never been easier and convenient. Features an ultra-thin brush for the seamless strip lashes application. One tiny drop is all you need to secure your entire lash, so this tube will surely last for a long time. It is easy to store and can be carried anywhere while traveling. The best value for money with its easy application, reasonable price, high-grade performance, portability and long shelf-life.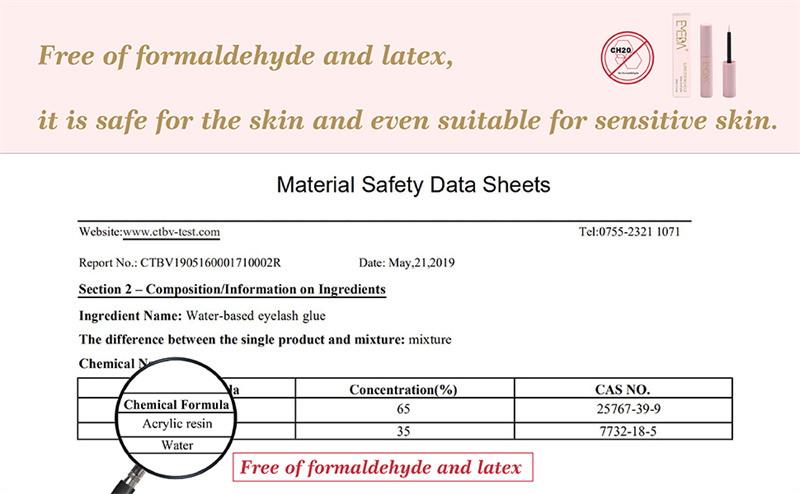 MADE IN KOREA,CRUELTY-FREE,HYPOALLERGENIC
A hypoallergenic lash adhesive formulated with Vitamins A, C & E and is also latex-free, formaldehyde-free,100% cruelty-free and specially made in Korea. Its waterproof formula ensures long-lasting wear and gentle for contact lens wearers including those with sensitive eyes. Easy to use, doesn't stick to skin and comes off easily when removing. Use this lash glue for a no-mess application to keep your falsies fresh, natural yet glamorous-looking!
The price of glue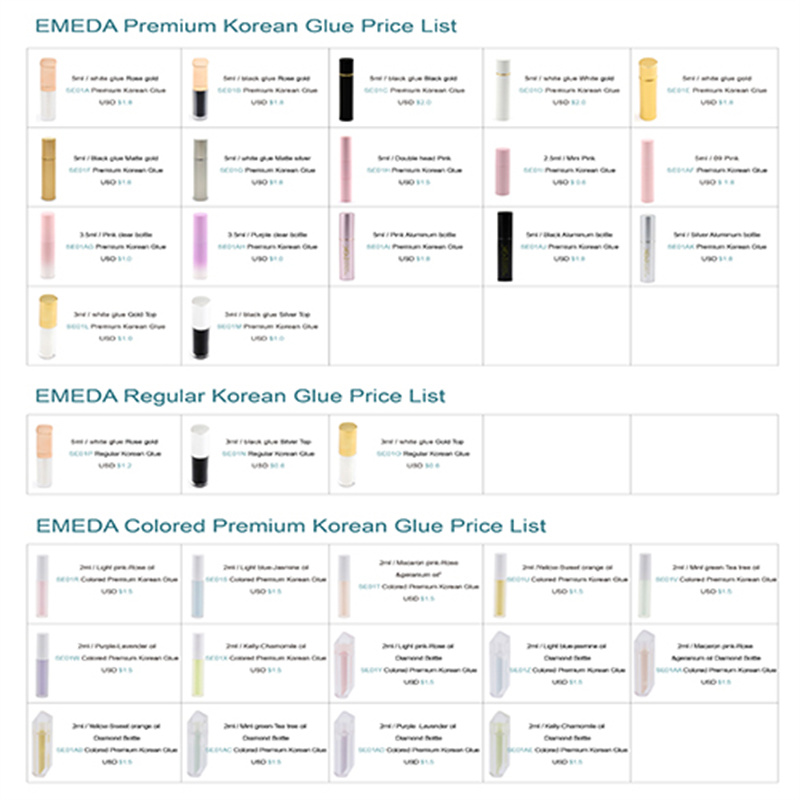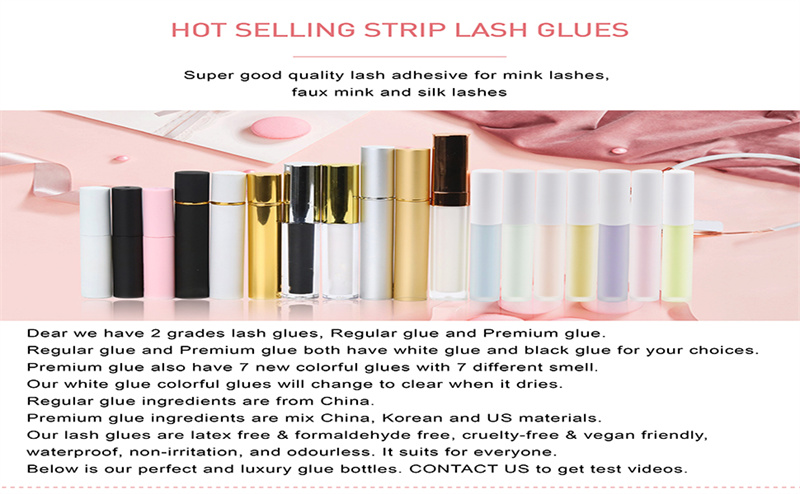 Dear we have 2 grades lash glues, Regular glue and Premium gllue.
Regular glue and Premium glue both have white glue and black glue for your choices.
Premium glue also have 7 new colorful glues with 7 different smell.

Our white glue colorful glues will change to clear when it dries.
Regular glue ingredients are form China.
Premium glue ingredients are mix China, Korean and US materials.
Our lash glues are latex free & formaldehyde free, cruelty-free& vegan friendly, waterproof, non-irritation, and odourless, and odourless. It suits for everyone.
Below is our perfect and luxury glue bottles. CONTACT US to get test videos.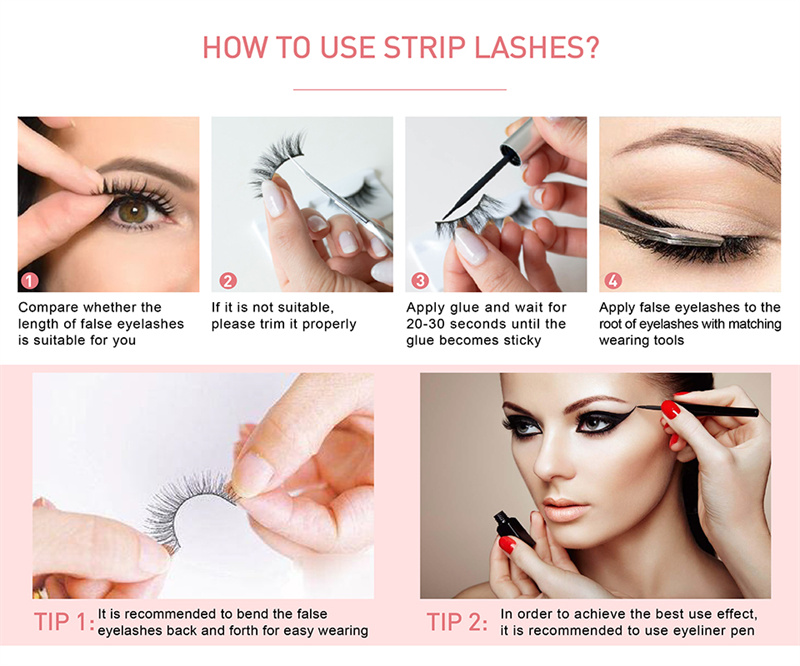 HOW TO USE STRIP LASHES
1. Compare whether the length of false eyelashes is suitable for you.

2. If it is not suitable, please trim it properly.
3. Apply glue and wait for 20-30 seconds until the glue becomes stickly.
4. Applu false eyelashes to the root of eyelashes with matching wearing tools.
WHY CHOOSE EMEDA?
Our company has been a lash supplier for many years.
We have own factory, the supply quantity is stable.

Our products are made by our experienced workers.

Unique technology is used to produce products.

A professional inspector check the quality before we send to customers.

Free samples accpetable and a lot of size is in stock.

Short production time and fast delivery.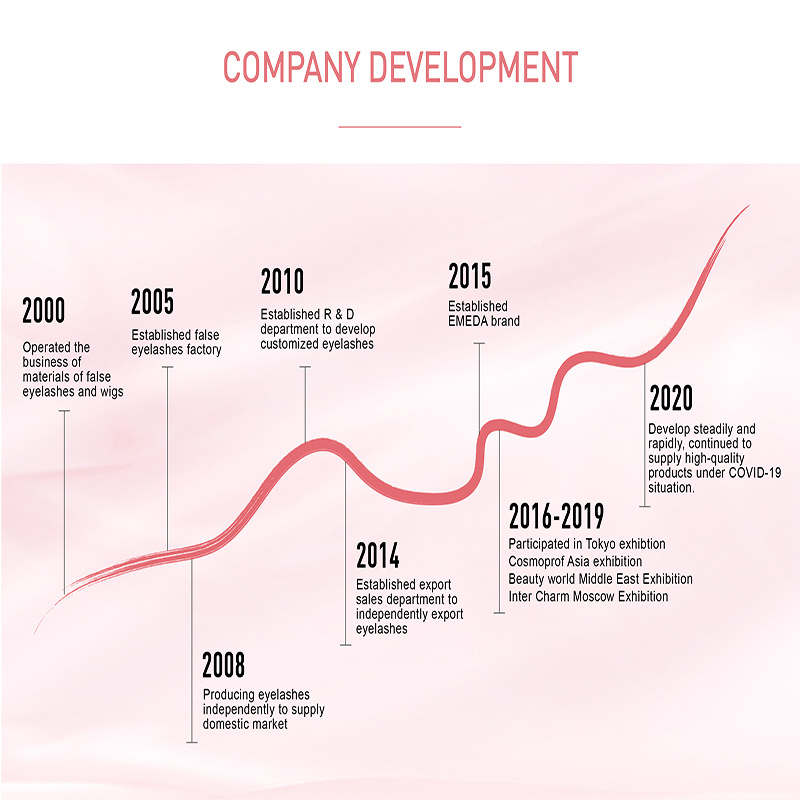 PAYMENT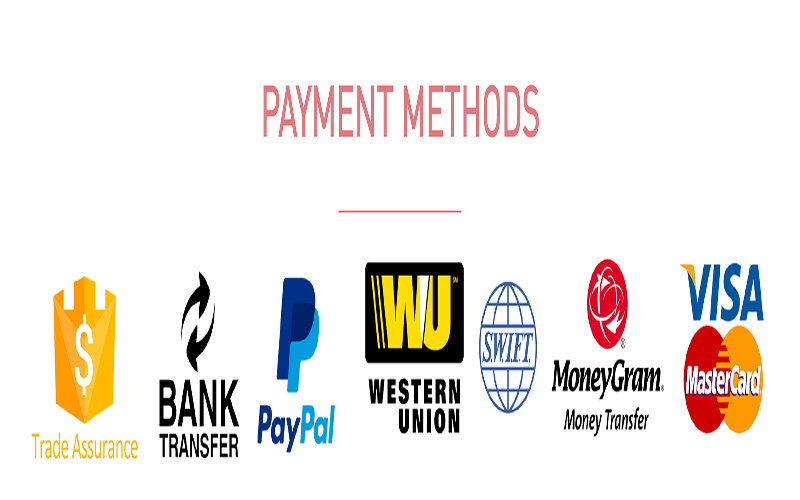 You may like
Contact us for more details
Email: sales06@emedaeyelash.com
Whatsapp: 8618562611508