EMEDA 3D W Shape Premade Fans Russian Volume Mega Lashes Private Label Lash Extensions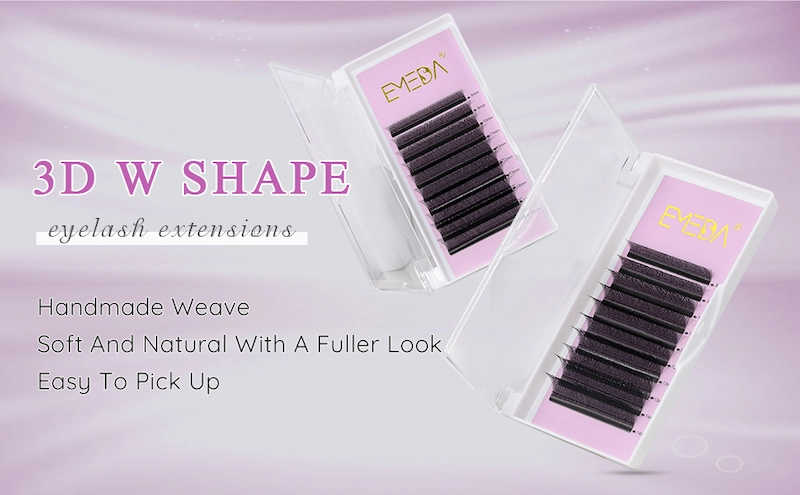 Emeda supplies 3D,6D W shape premade fans.Curl C, Length 8-14mm, Thickness 0.07mm.Can easily make fluffy or natural effect. It is the perfect lahes to make Russian Volume Mega eyelash extension. It can save your time but have an amazing effect.
Details about 3D W Shape Premade Fans
Name:3D W Handmade Weave Lashes/3D W Shape Premade Fans
Material: Premium PBT Silk Fiber
Curl: C
Color: black
Thickness: 0.07 mm
Length: 8-14 mm mixed tray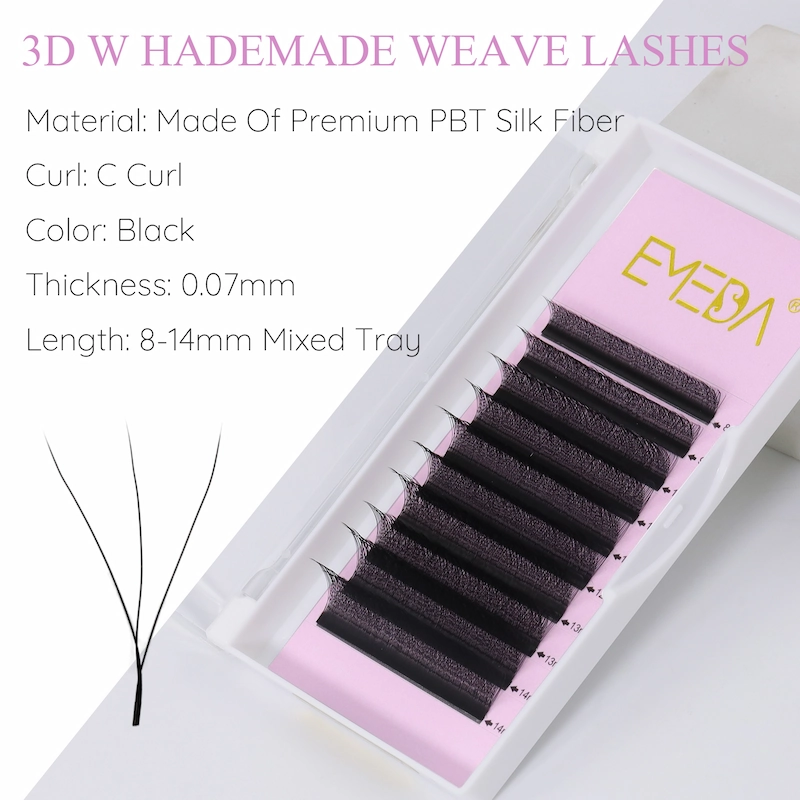 Features of 3D W Shape Premade Fans
1.Enhanced Volume: It allows for increased volume and density compared to traditional individual lash extensions. Each fan consists of multiple ultra-thin lashes, creating a fuller and more dramatic effect on the natural lashes.
2. Time-Saving: Using premade fans significantly reduces the application time for lash technicians. As each fan is already pre-made, they can be easily picked up and applied to the natural lashes, saving valuable time during the extension process.
3.Consistency: Premade fans ensure consistent results as each fan is precisely crafted with the same number of lashes and arranged in a uniform pattern. This consistency helps to achieve a symmetrical and balanced look across all lashes, enhancing the overall appearance.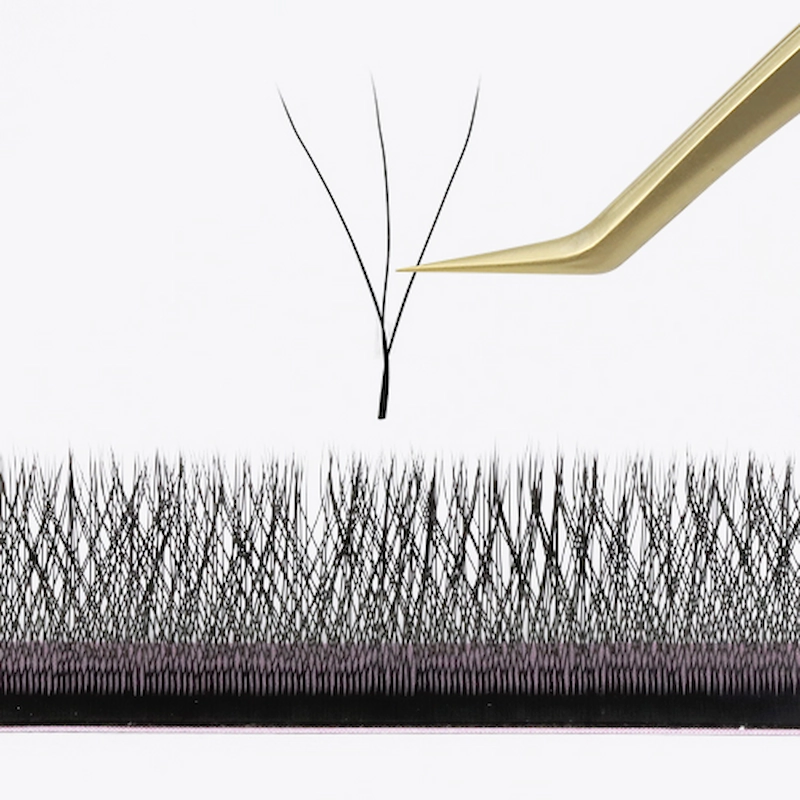 r
4.Reduced Strain: The 3D W shape design of premade fans distributes the weight of the lashes more evenly across the natural lashes. This helps to minimize strain on the natural lashes, reducing the risk of damage or premature shedding. The lightweight nature of the fans also ensures a comfortable and natural feel for the client.
5.Ideal for Sparse Lashes: It is particularly beneficial for clients with sparse or thin natural lashes. The multiple lashes
in each fan create an illusion of fuller and thicker lashes, effectively filling in the gaps and providing a voluminous look.
6. Beginner-Friendly: For lash technicians who are new to the industry or still developing their skills, premade fans can be a great option. The pre-made nature of the fans eliminates the need for advanced techniques like hand-making volume fans, making the application process more accessible and easier to master.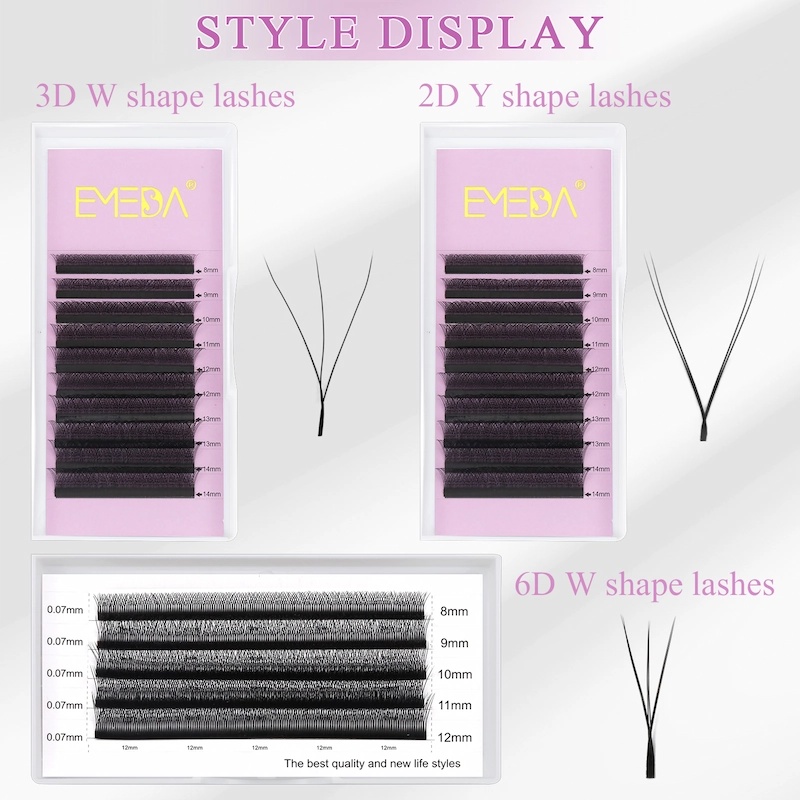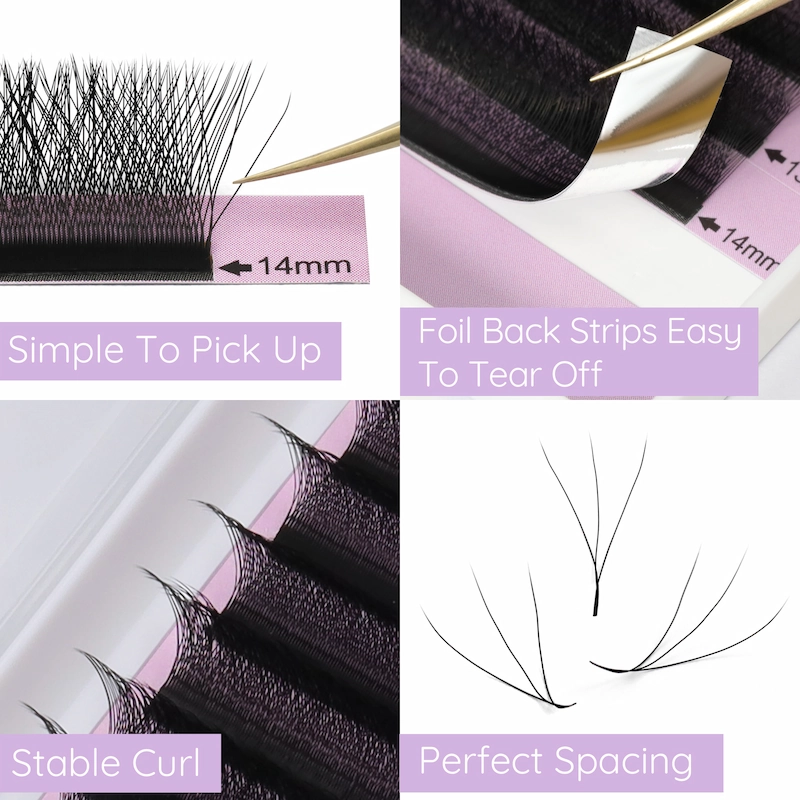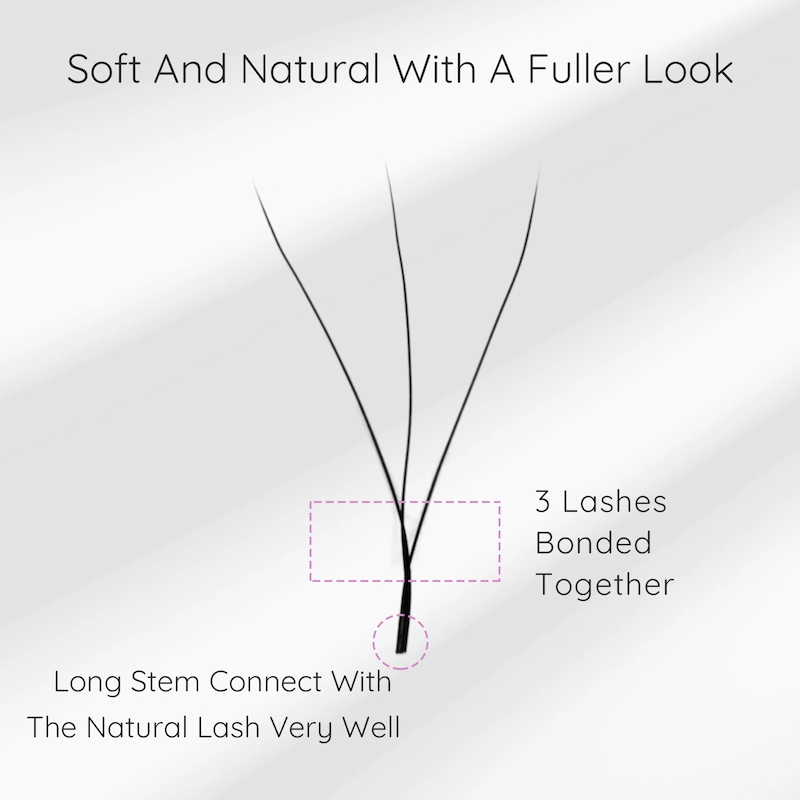 Related Products
We not only have W shape eyelash extensionsWe have variety of eyelash extensions, such as classic/volume eyelash extensions, easy fan lash, premade fan eyelash extensions, automatic flower volume easy fan, and colored neon lash.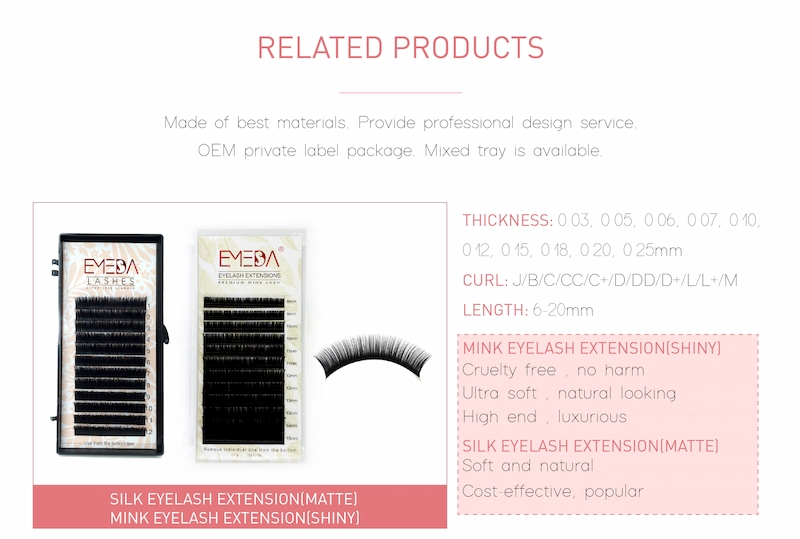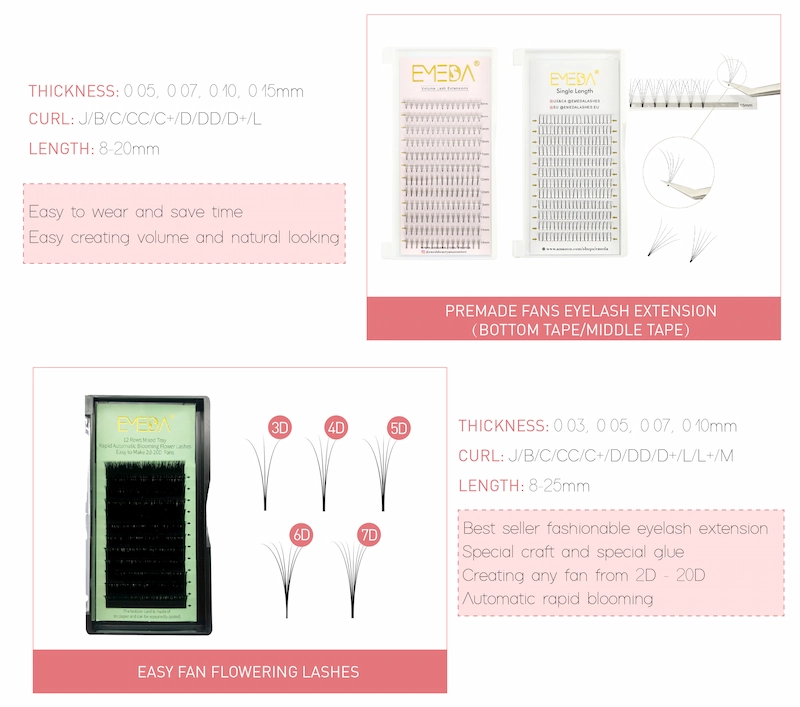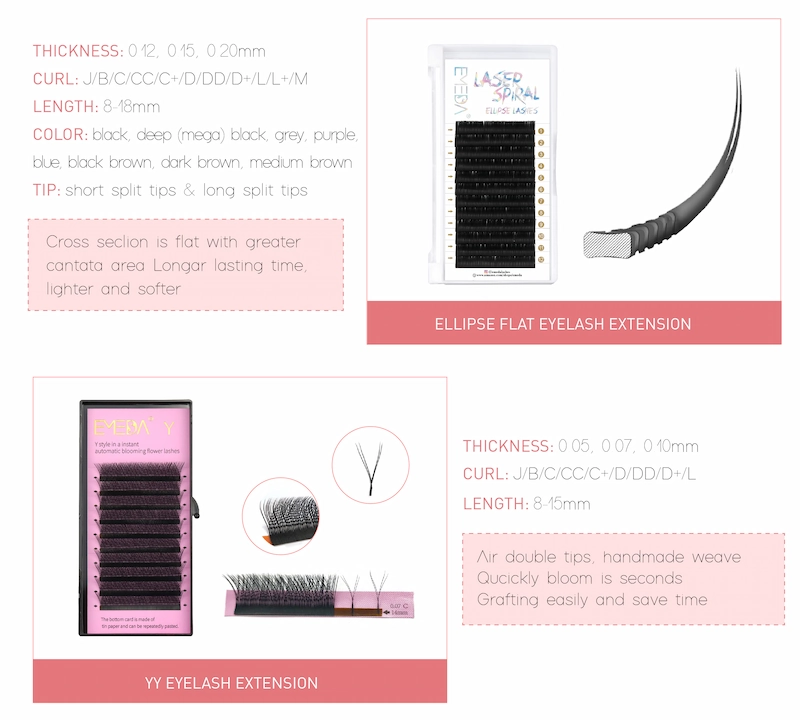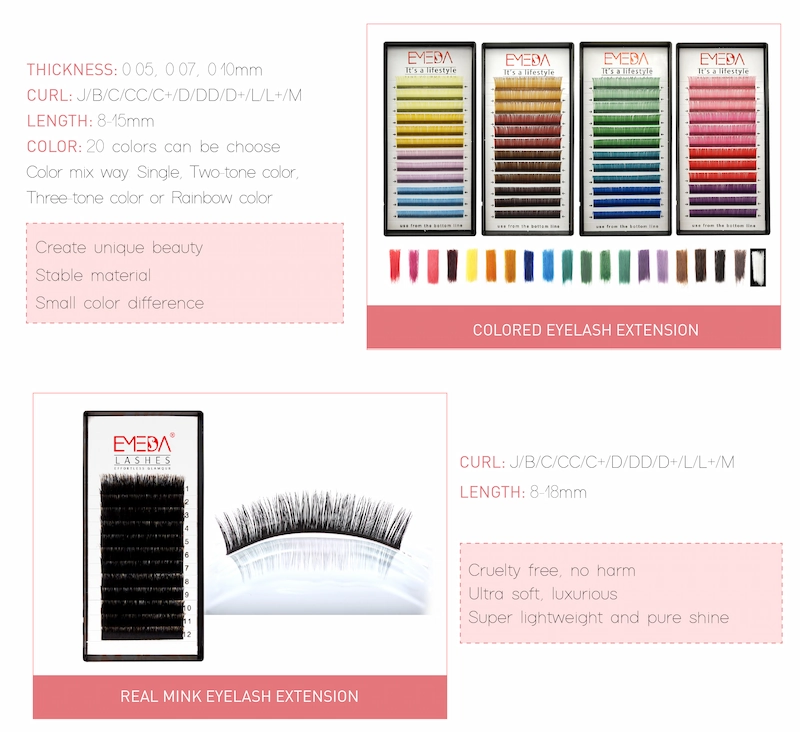 Related Eyelash Extension Tools
We have many eyelash extension tools that you can use with eyelashes. Such as eyelash glues, primer, bonder, gel remover and tweezers.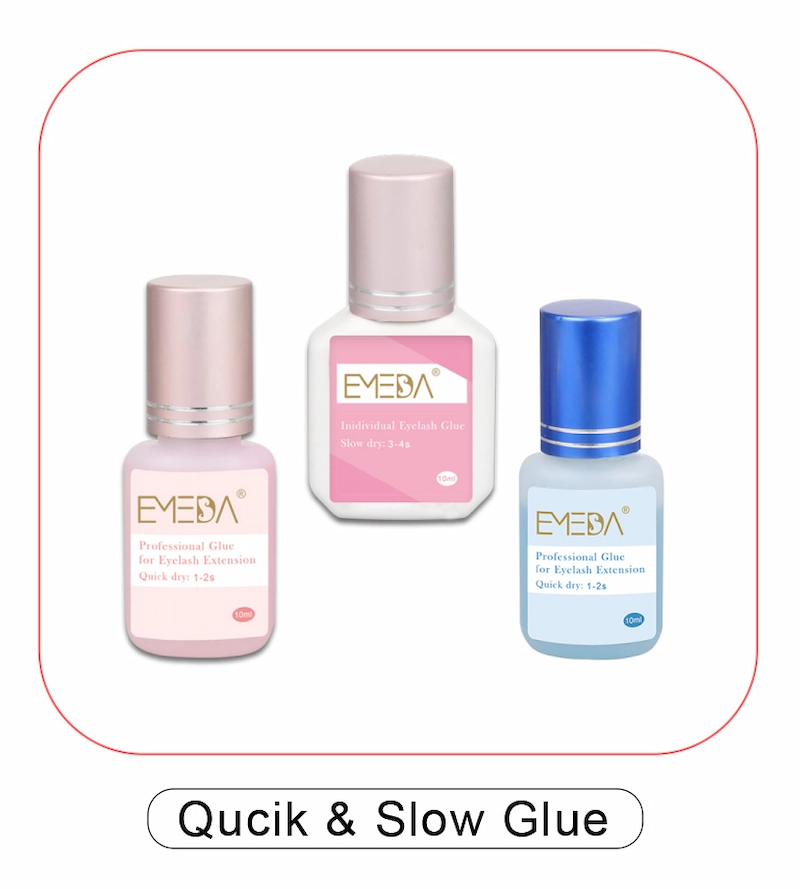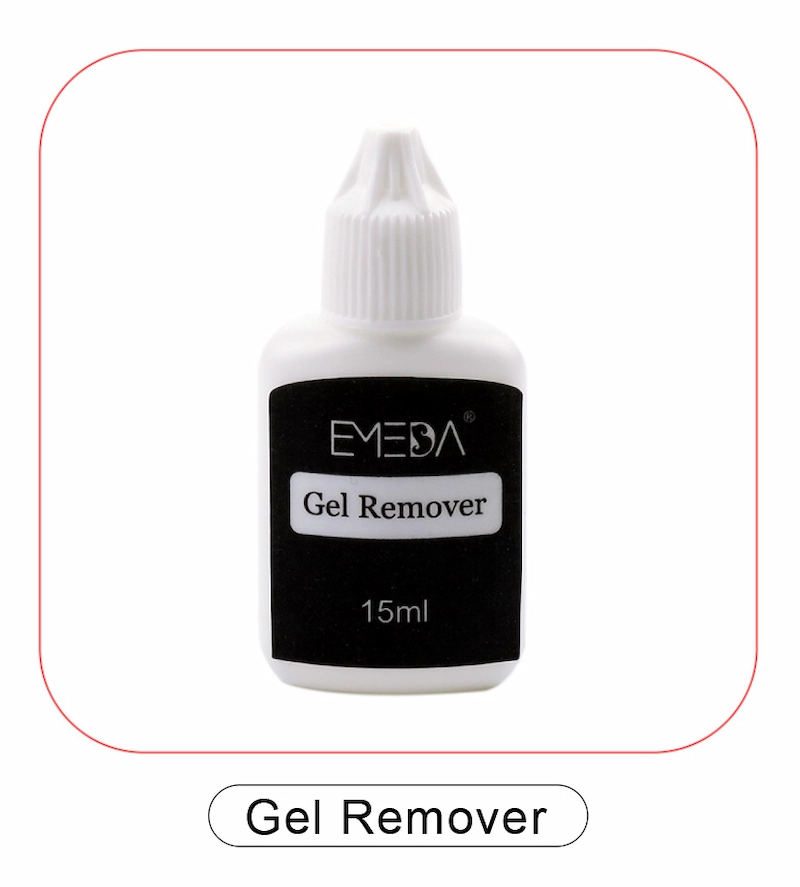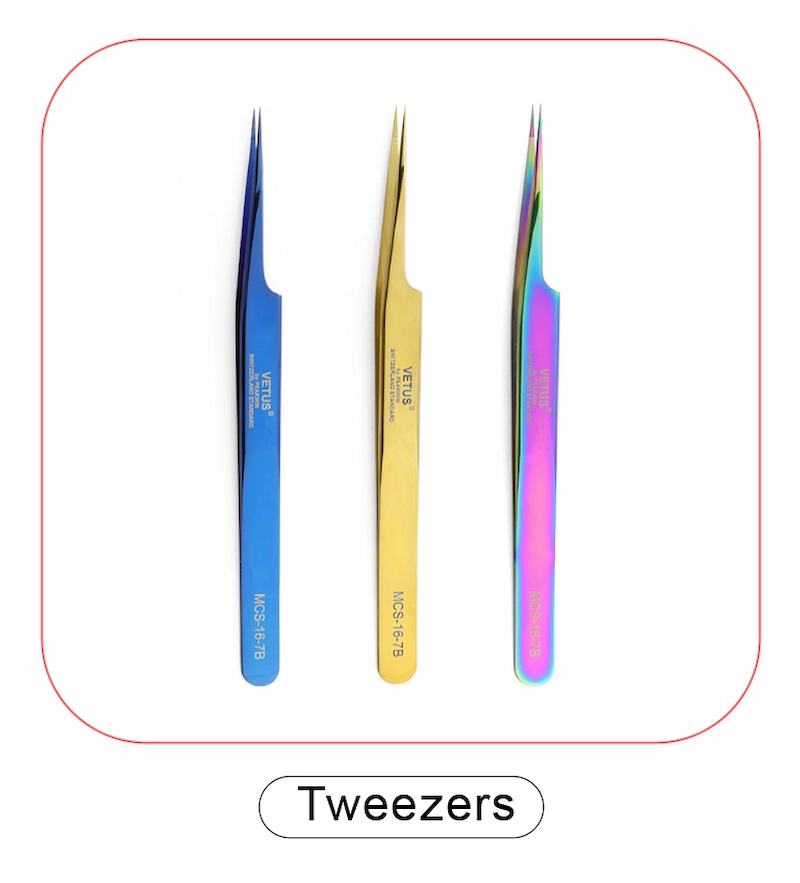 Shippment
We have professional packaging and shipping team. Ecah process is careful, clean, professional, fast and efficient.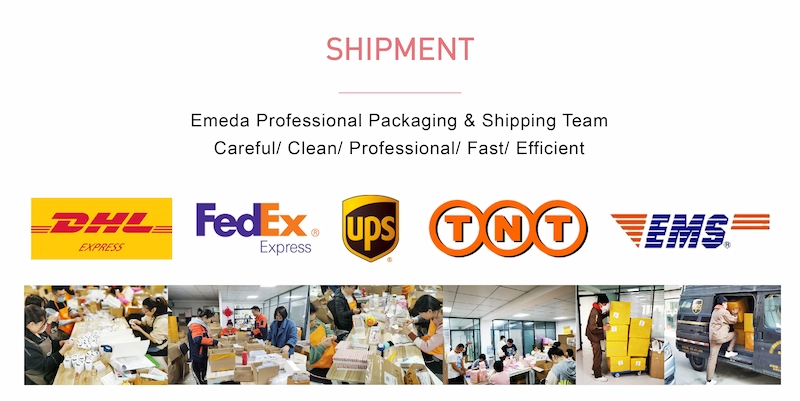 If you are intereted in any our products, please do not hesitate to cantact me!
Email: minklah@emedaeyelash.com
Whatsapp: +86 13573804926