Best MAGANETIC LASHES!Magnetic Lash and Eyeliner SET!!



2022 EMEDA Magnetic Eyelashes with Magnetic Eyeliner in US/UK


MAGNETIC LASHES

PROPERTIES
| | |
| --- | --- |
| Brand | EMEDA or your own brand |
| Price | 0.8 each pair |
| Colour | black |
| Packing | Cusomized Package Accepted |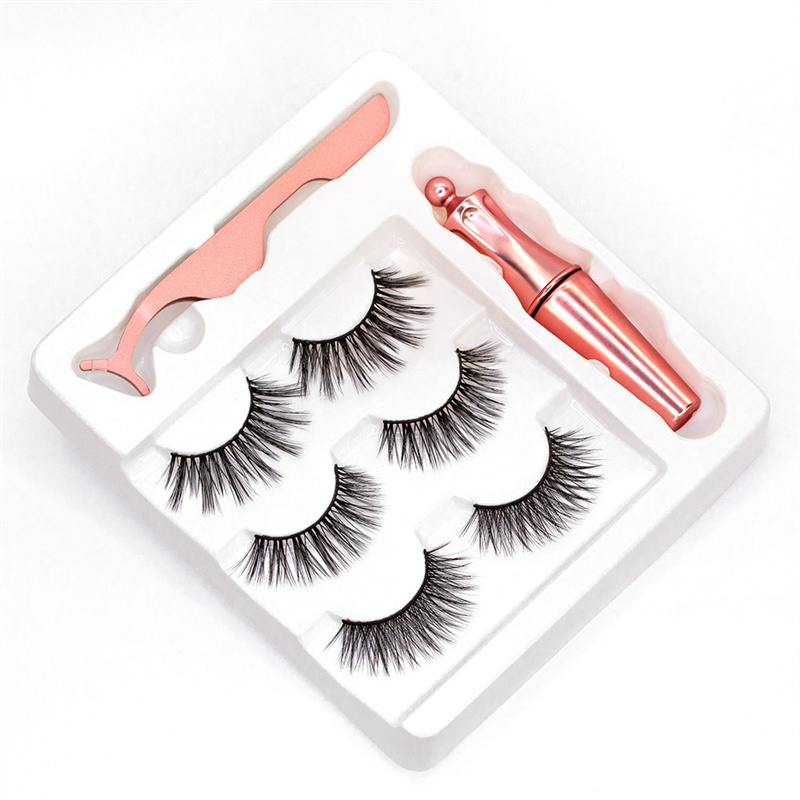 MAGNETIC EYELINER AND MAGNETIC LASHES

ADVANTAGE
High-quality materials: The false lashes are made of soft and lightweight faux mink lashes,more durable and long lasting than ordinary eyelashes,you can't even feel it when you wear it,just like real eyelashes.
Upgrade formula: Magnetic eyelashes kit comes with tubes of special eyeliner with superfine magnetic particles, which acts like a magnet and can hold the eyelashes firmly.No need to use glue that will damage your eyelashes,and the new formula adds eyelash growth liquid,and your eyelashes can become longer with long-term use.
Easy to use &durable: Just apply magnetic eyeliner like eyeliner,wait until the eyeliner dries,and place the dramatic eyelashes on the eyeliner,simple and convenient.Natural look eyelashes can be used continuously and waterproof,which can keep charming eyelashes for a long time,very durable!
Perfect gift: Very suitable for Mother's Day,Valentine's Day, birthday, anniversary,Thanksgiving,Christmas and party presents to mother,grandma,wife,daughter,sister,and girlfriend.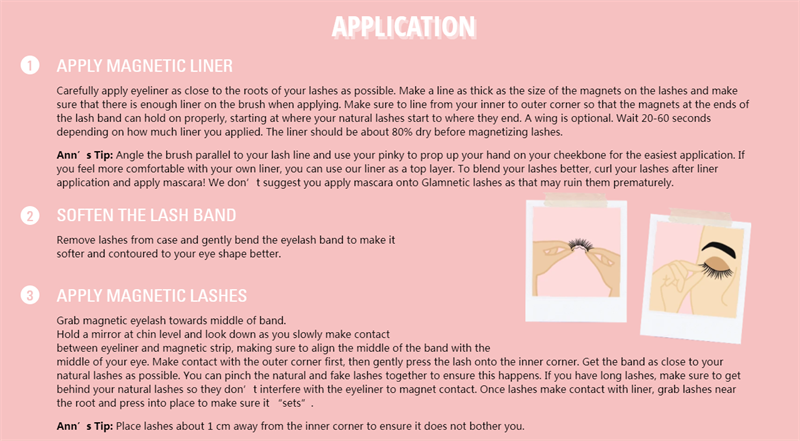 MAGNETIC EYELINER AND MAGNETIC LASHES

APPLICATION
1.APPLY MAGNETIC LINER
Carefully apply eyeliner as close to the roots of you lashes as possible. Make a line as thick as the size of the magnets on the lashes and makesure that there is enough liner on the brush when applying. Make sure to line from your inner to outer corner so that the magnets at the ends ofthe lash band can hold on properly, starting at where your natural lashes start to where they end. A wing is optional. Wait 20-60 seconds depending on how much liner you applied. The liner should be abou 80% dry before magnetizing lashes.
Tip: Angle the brush parallel to your lash line and use your pinky to prop up your hand on your cheekbone for the easiest application. Ifyou feel more comfortable with your own liner, you can use our liner as a top layer. To blend your lashes better, curl your lashes after liner application and apply mascara! We don' t suggest you apply mascara onto Glamnetic lashes as that may ruin them prematurely.
2.SOFTEN THE LASH BAND

Move lashes from case and gently bend the eyelash band to make it softer and contoured to your eye shape better.
3.APPLY MAGNETIC LASHES
Grab magnetic eyelash towards middle of band. Hold a mirror at chin level and look down as you slowly make contact between eyeliner and magnetic strip, making sure to align the middle of the band with the middle of your eye. Make contact with the outer corner first, then gently press the lash onto the inner corner. Get the band as close to yournatural lashes as possible. You can pinch the natural and fake lashes together to ensure this happens. If you have long lashes, make sure to getbehind your natural lashes so they don' t interfere with the eyeliner to magnet contact. Once lashes make contact with liner, grab lashes nearthe root and press into place to make sure it "sets".
Tip: Place lashes about 1 cm away from the inner corner to ensure it does not bother you.

4.APPLY ANCHORS (OPTIONAL)

Anchors are meant to sandwich your natural lashes just like traditional magnetic lashes,except we' ve revamped our lashes to be used evenwithout them,of course!We suggest you use anchors under the inner and outer corner lash magnet or wherever you feel you need more hold.You may even opt to use ONLY anchors on days you don' t feel like wearing liner.
How to Use: Using either your hands or a tweezer,hold the anchor by the tiny hairs,where the curl is going upwards. Place them right underyour natural lashes near the lash magnet you desire to magnetize to.Once you get close enough,the magnets will magnetize to each other andsnap into place,sandwiching you natural lashes!When you pull on your lash,you will feel the extra security.Continue this process with as manymagnets as you' d like!

Tip: For girls with thin lashes,I suggest you apply mascara and curl your lashes before lash application if you want to use anchors sothere is something to sandwich!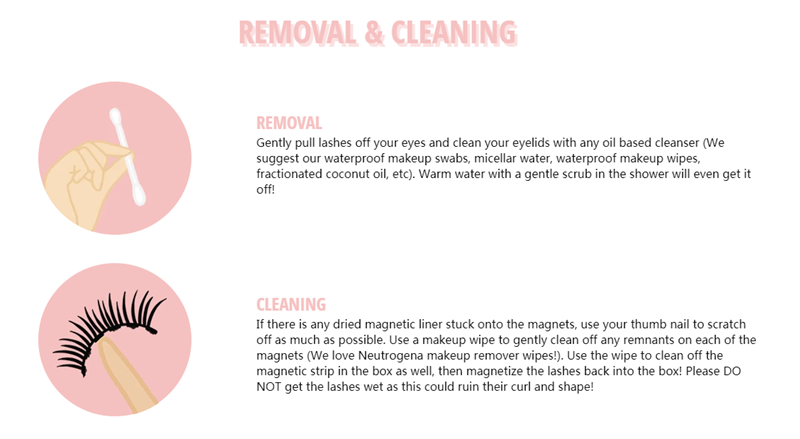 MAGNETIC EYELINER AND MAGNETIC LASHES

REMOVAL&CLEANING
REMOVAL
Gently pull lashes off your eyes and clean your eyelids with any oil based cleanser (Wesuggest our waterproof makeup swabs, micellar water, waterproof makeup wipes, fractionated coconut oil, etc). Warm water with a gentle scrub in the shower will even get itoff!
CLEANING

If there is any dried magnetic liner stuck onto the magnets, use your thumb nail to scratchoff as much as possible. Use a makeup wipe to gently clean off any remnants on each of themagnets (We love Neutrogena makeup remover wipes!). Use the wipe to clean off the magnetic strip in the box as well, then magnetize the lashes back into the box! Please DONOT get the lashes wet as this could ruin their curl and shape!

MAGNETIC EYELINER AND MAGNETIC LASHES

APPLICATION FAQ
1.Can I apply mascara onto my Glamnetic lashes? How do I blend my natural lashes with Glamnetic lashes better?
We don' t suggest you apply mascara onto Glamnetic lashes as that may ruin them prematurely. Rather, apply mascara onto your lashes andcurl them before magnetizing the lashes to blend them better.

2.How long to wait before applying lashes after applying liner (what's the best time, is there such thing as too long to wait, whatif I decide Iwant to change my lashes in the middle of the day - should Ire-appy?)

We suggest you wait 20-60 seconds until the liner is 80% dry before magnetizing if you draw the suggested thickness of liner . about as thick asthe magnets. If you have an especially thick line, then you can wait longer until it gets to about 80% dry. If you wait too long after the liner isdried, the magnetism may not be as optimal.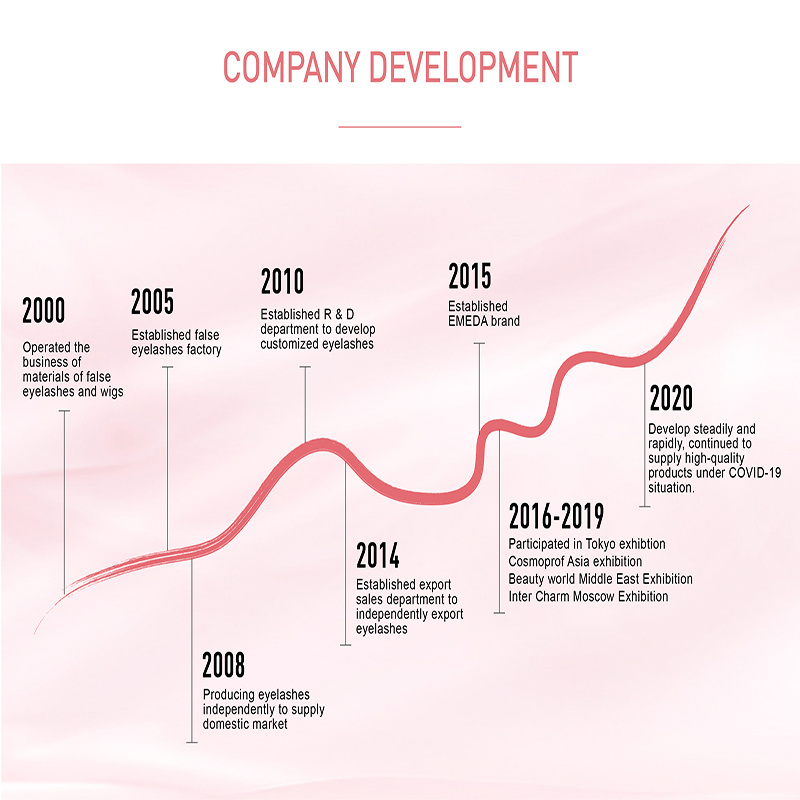 WHY CHOOSE EMEDA?
Our company has been a lash supplier for many years.

We have own factory, the supply quantity is stable.

Our products are made by our experienced workers.

Unique technology is used to produce products.

A professional inspector check the quality before we send to customers.

Free samples accpetable and a lot of size is in stock.

Short production time and fast delivery.

PAYMENT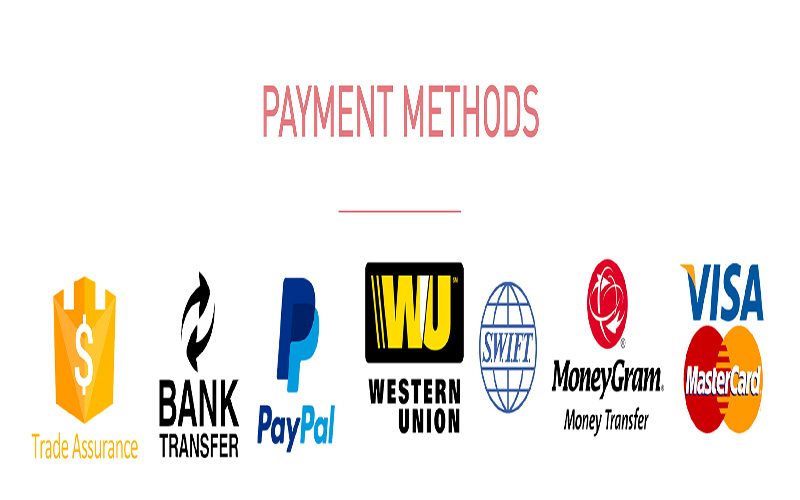 You may like
Contact Jessie for more details

Jessie whatsapp: +86 185 6261 1508
Email: sales06@emedaeyelash.com