Top quality magic adhesive eyeliner pen
Magic adhesive eyeliner pen 2 in 1 wholesale
Is it troublesome to repeatedly apply glue to the false eyelashes and wait for it to dry? Does it take too much time to wear eyelashes and need to repaint eyeliner? Don't worry, we have launched the magic eyeliner pen. It combines the functions of eyeliner and glue, which can slide like eyeliner and work like eyelash glue. Save you a lot of time and the effect is amazing!
Eyeliner pen=eyeliner+lash glue
Simply line up your upper eyelids, then put on your eyelashes, and you're done! It has never been easier! Magic adhesieve eyeliner pen set make your beauty SO EASY!
NO GLUE!
NO Magnet!
NO Preglued Strip!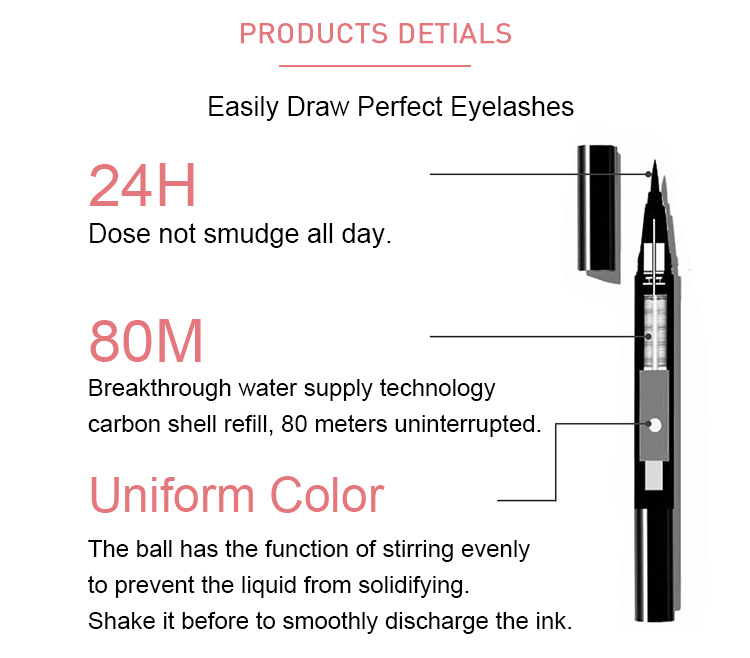 Advantages:
1 Smooth sponge brush head, it is very soft to apply. Quick-drying formula design, but super fixation and long-lasting.
2 not easy to smudge. But it is easy to wipe off when you remove your makeup, and it can be wiped off with a cotton pad.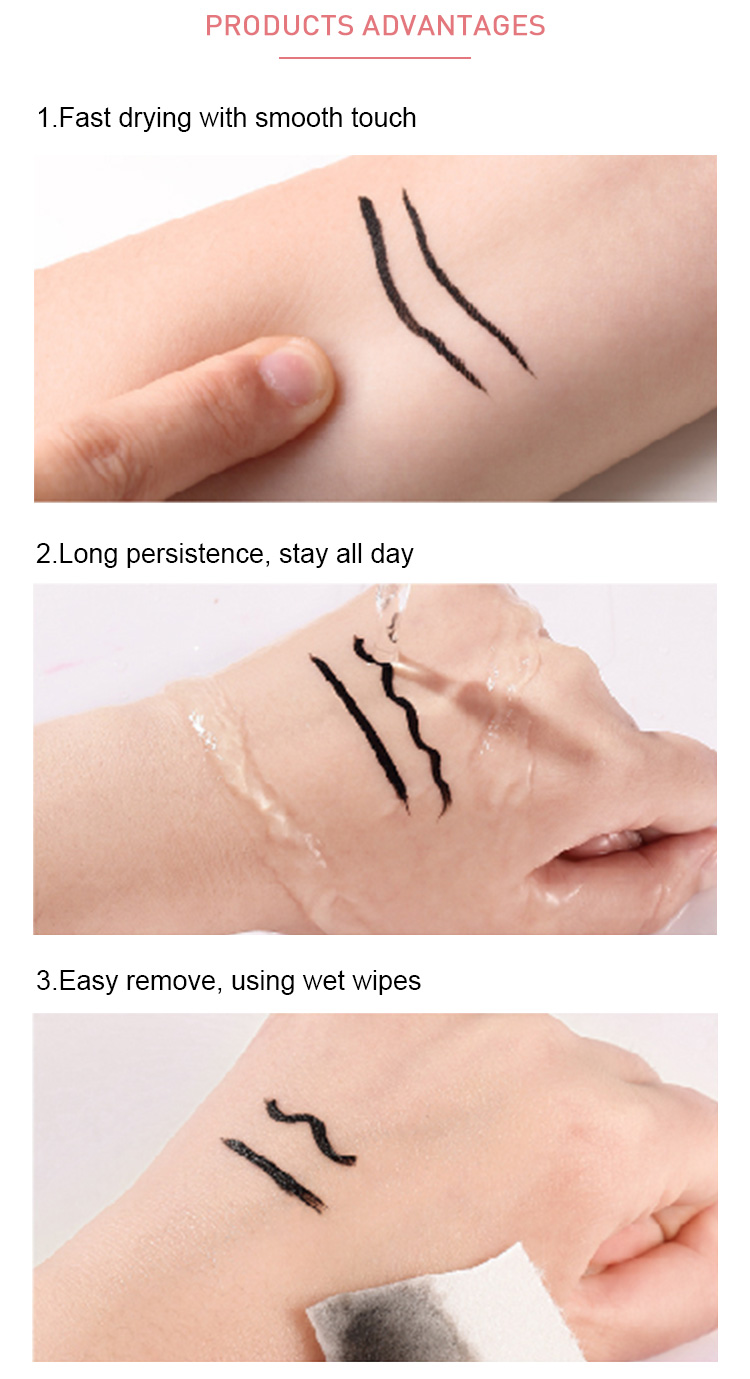 3 Safety. For eye products, safety is our most concerned performance. Our products can pass different country test ! Patent Technique!
4 Light Weight: only top piece lash, without magnetic or glue, so no heavy feeling.
5 Can be used for variety eyelash:real mink lashes, faux mink lash, silk lash, human hair lashes, horse hair lash, flare eyelash/ pre made fans eyelashes and magnetic eyelashes.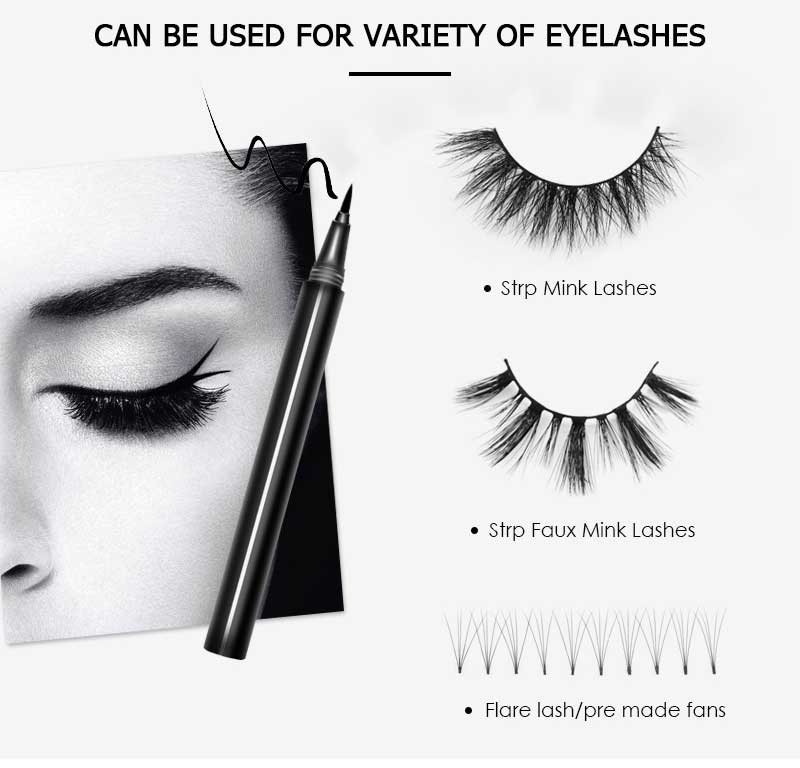 I think you must be very curious how to use this adhesive eyeliner pen now?
Shake the eyeliner gently before using.
Using liquid eyeliner draw an eye line along the root of your own eyelashes.
Wear your favorite like false eyelash style, finishing!
Pakage for this adhesive eyeliner pen
Good products need beautiful packaging to present! You can choose our own box or customized box with your logo. Contact me to make you own logo.

Five-star feedback from customersack from customers: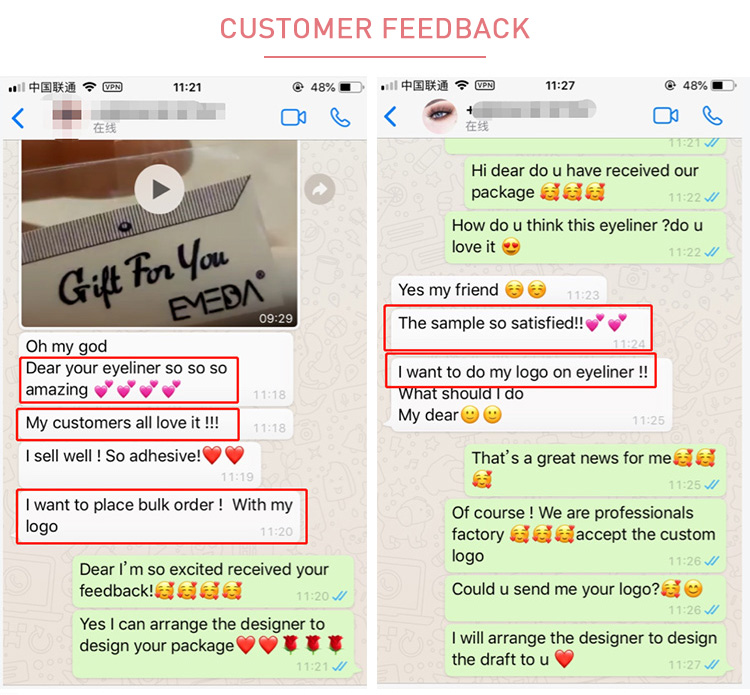 I hope this article can help you decide the most useful adhesive liquid liner pen wholesale for you and can save your clients more time and money!
If you are interested in this five star adhesive eyeliner pen, just contact me! You are also welcome to send your inquiry through below form, and I will reply as soon as possible!