Private Label Lash Extension Easy Fan Volume Lashes for Artists and Beginners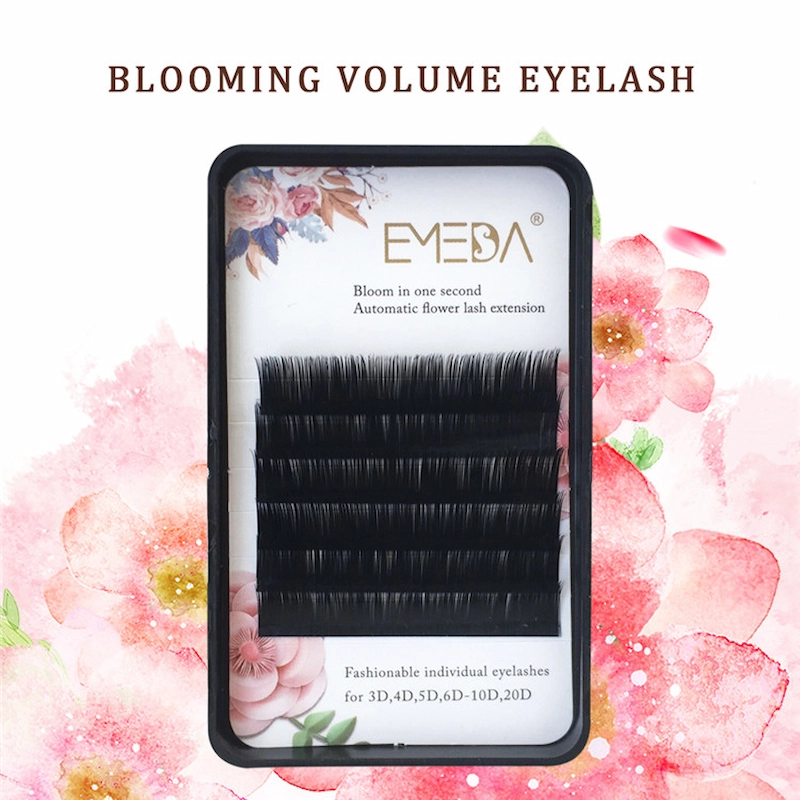 Easy fan volume lashes are made of korean pbt fiber, so it is soft and light. It is a good choice for lash extensions, compared with other type of eyelash extensions, it is easy to pick and apply directly, which can save your time. Easily to make 3D-20D effect. Perfect choice for lash artists and beginners. We also have customized private label services that you can make your own brand.
Details of East Fan Volume Lashes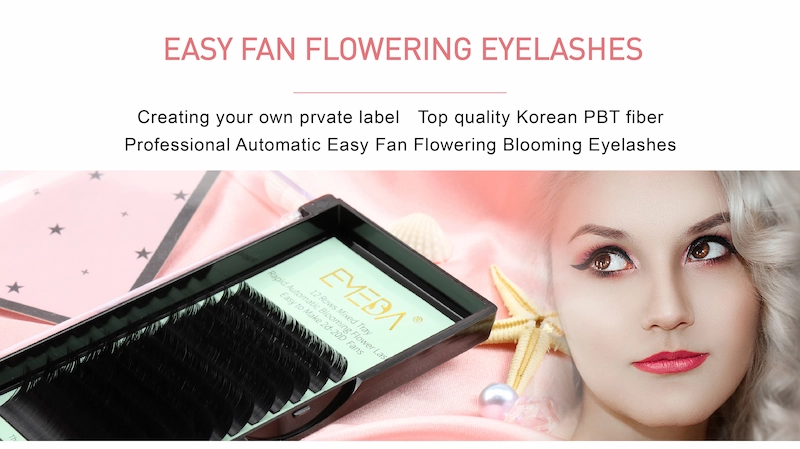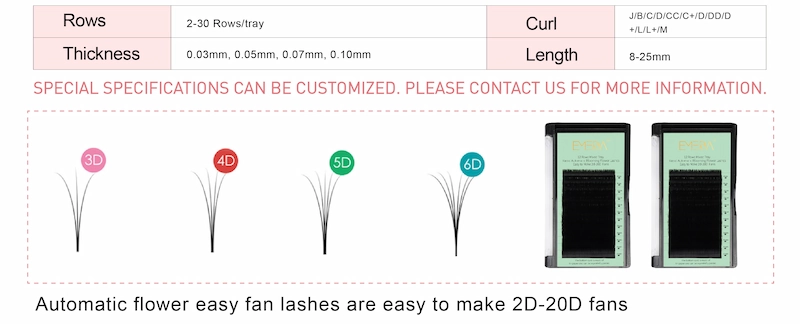 Product Name: Easy Fan Lashes/Automatic Flower Lash Extension

Material: Korean PBT Fiber
Length: 8-25 mm
Curl: J/B/C/CC/D/DD
Thickness: 0.03 mm, 0.05 mm, 0.07 mm, 0.10 mm
Feature: easy to make 2D-20D fans
Advantages of Easy Fan Volume Lashes
1. Easily grafted eyelashes: compared with traditional eyelash grafting takes 90 minutes, blooming volume eyelash grafting takes only 30 minutes. With easy fan lashes, technicians can create volume fans quickly and easily, reducing the overall application time. This means that more clients can be served in a day, leading to increased productivity and potentially higher earnings. Just one clip, the eyelashes will spread like automatic flowering, easily and beautiful.
2. It can blossom without technology and eyelashes are not scattered. And flowering is more natural and larger.It can easily make 2D-20D effect.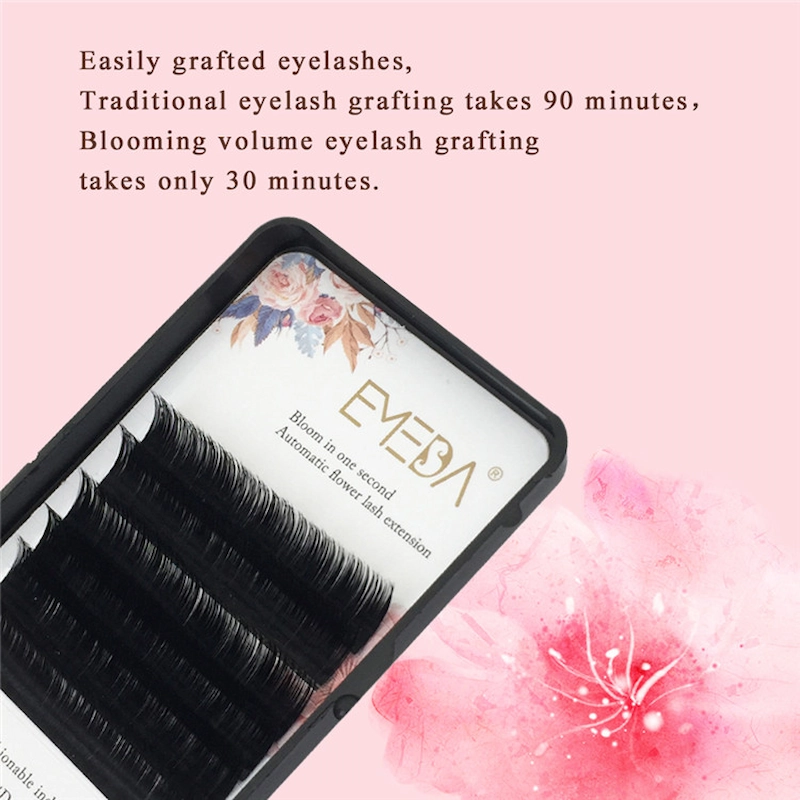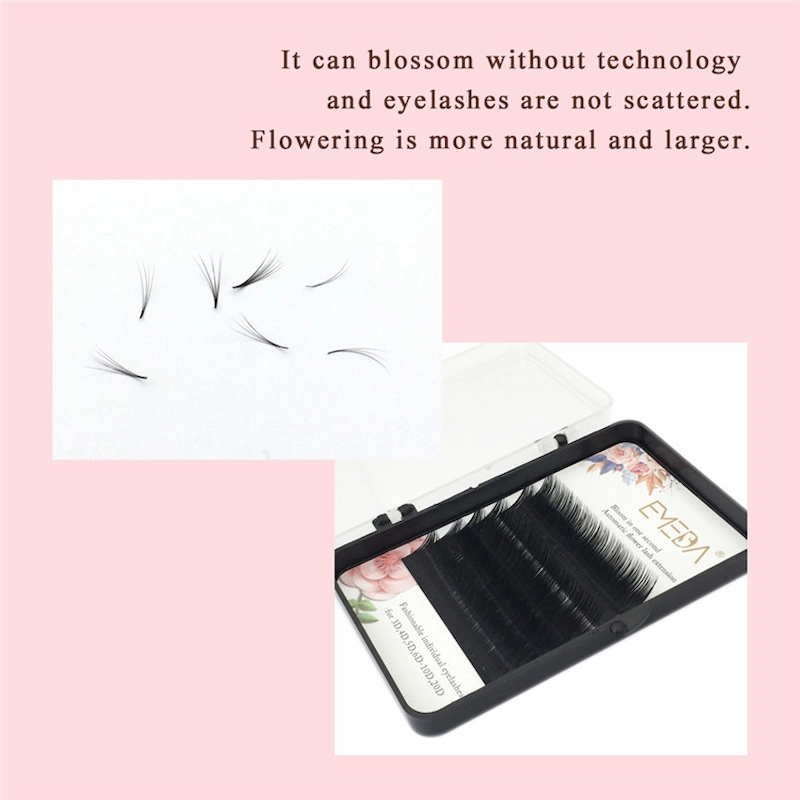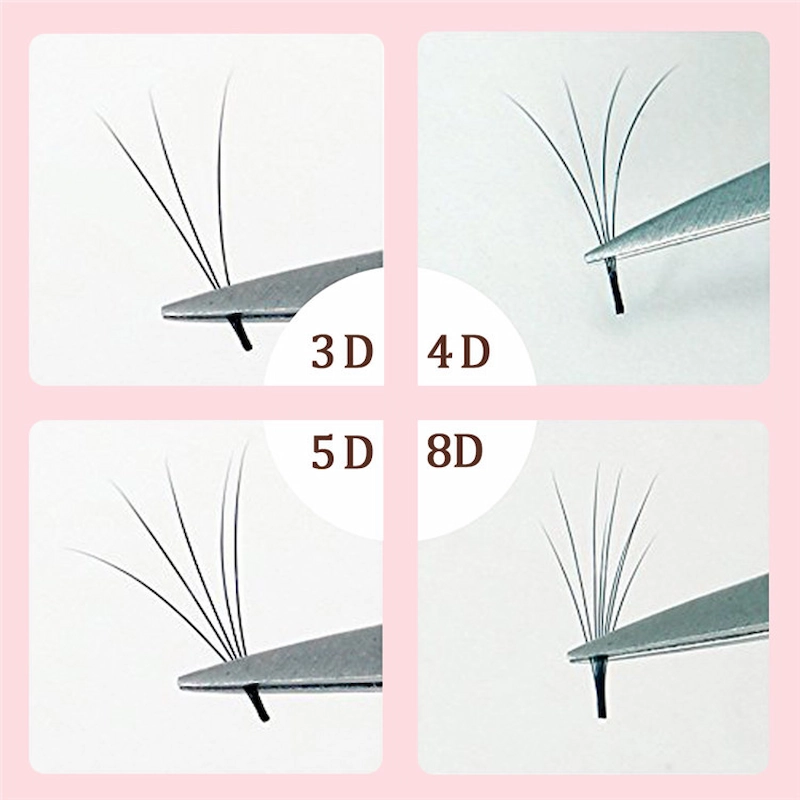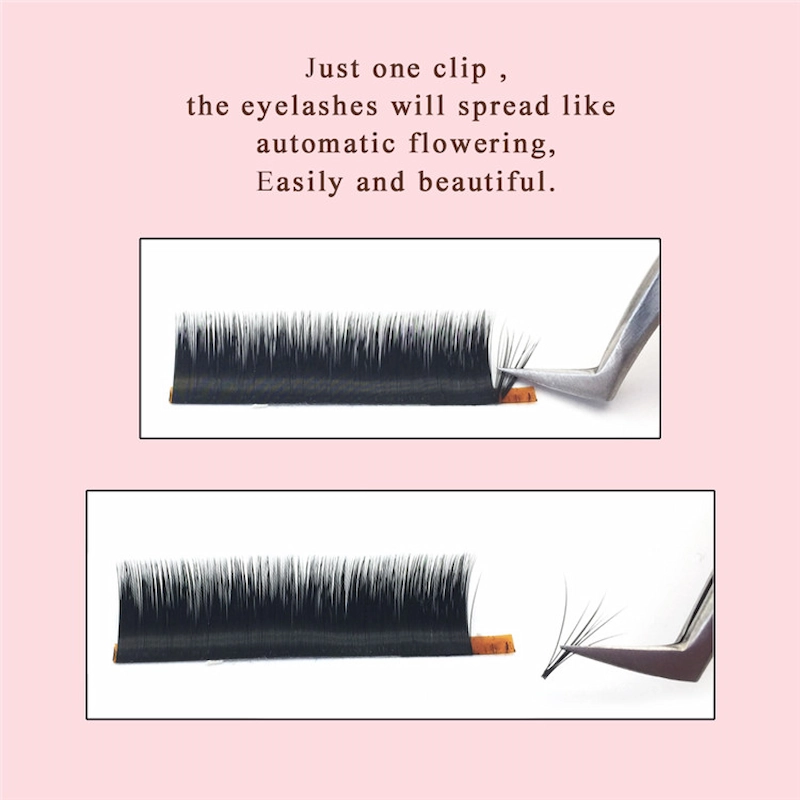 3.Premium Material:the eyelashes are handmadee from Korean black PBT material.As Korean lashes are so soft and lightweight just like your own lashes, it is the best choose for eyelash extensios.
4.Profession:Easy to remove, no residue, stable curl, grafting easily eyelash extensions, salon perfect use. Since the fans are pre-made, they are uniform in size and shape, ensuring a consistent and symmetrical appearance across the lash line. This can be particularly beneficial for clients who desire a flawless and uniform lash look.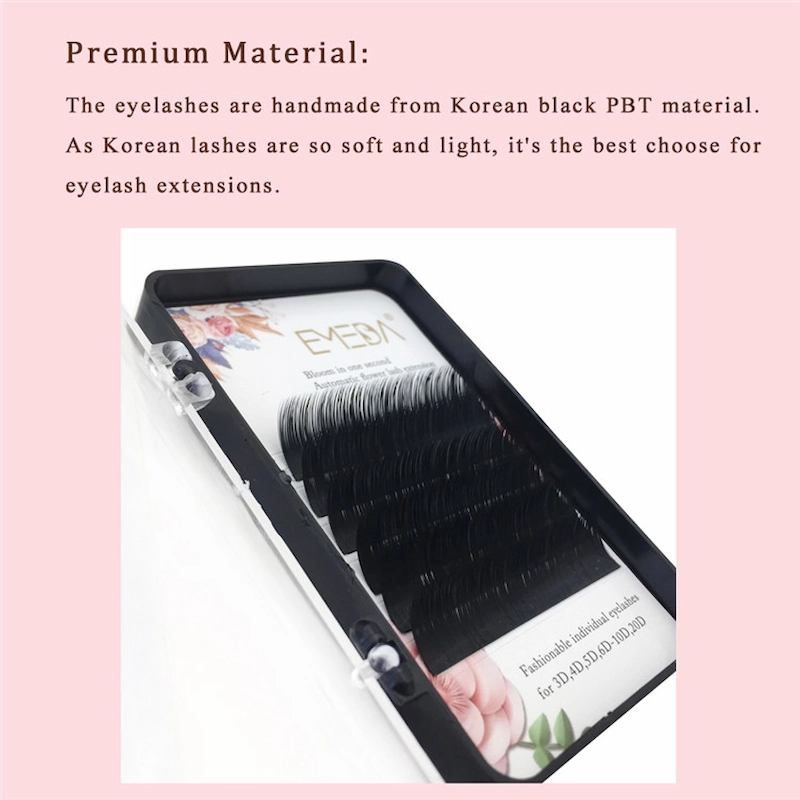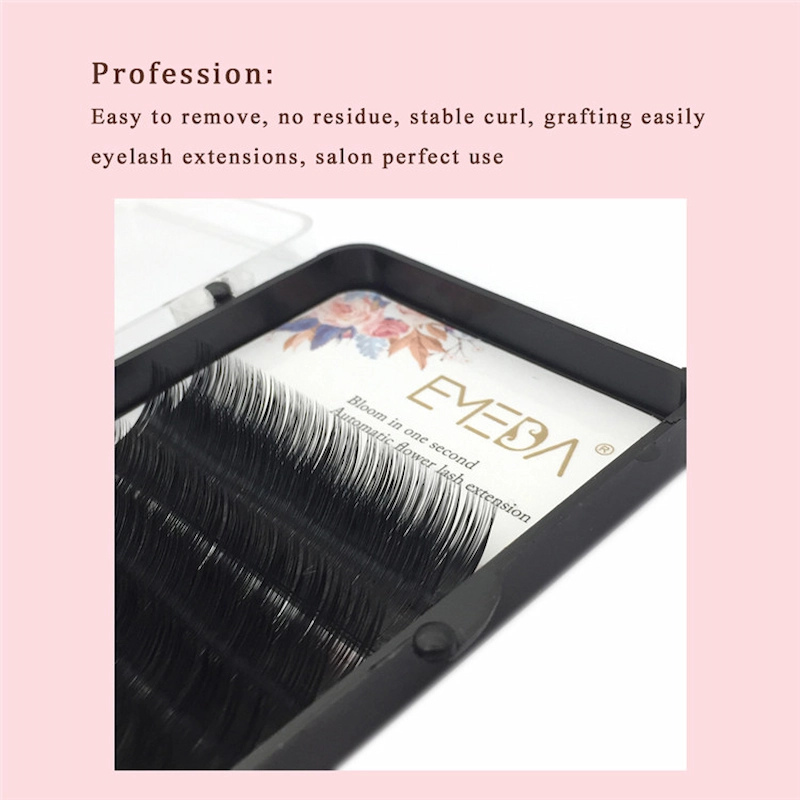 Private Label Services
We have special private label services for customers. All your demands could be negotiated. Private label papercards could be customized. You could design you own logo on it. We also can put your social media information on papercards. We also offer single and mixed length trays.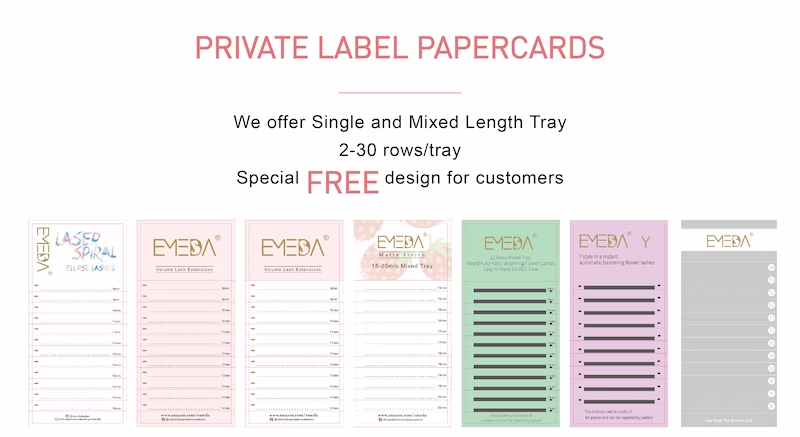 We have different eyelash extension boxes for you to choose. We can do plastic boxes and magnetic boxes for it. Our boxes can be made different shapes, such bevel edge box, round corner box and gold-plated box, etc.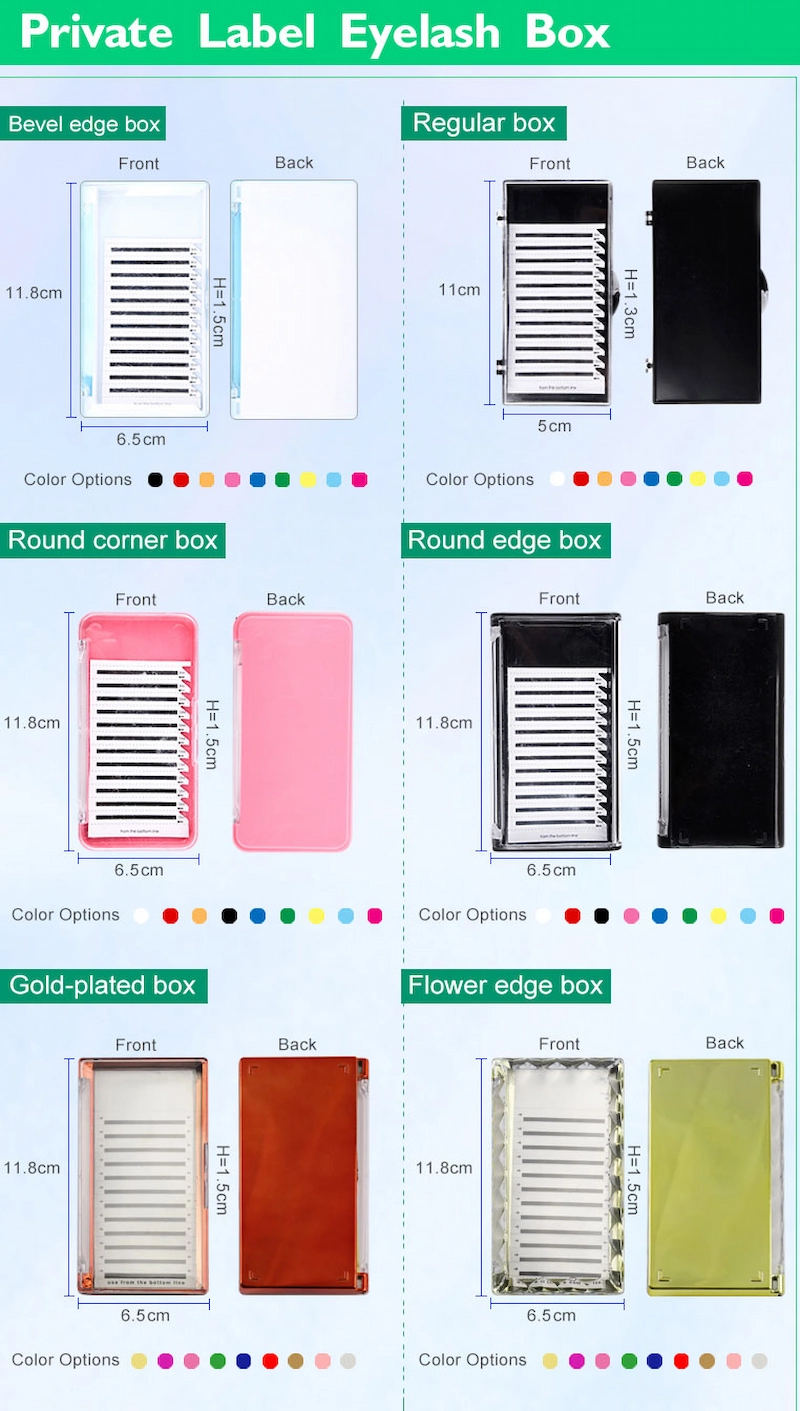 Related Products
We have variety of eyelash extensions, such as premade fan eyelash extensions, automatic flowe volume easy fan, classic/volume eyelash extensions, YY eyelash extensions, and colored eyelash extensions.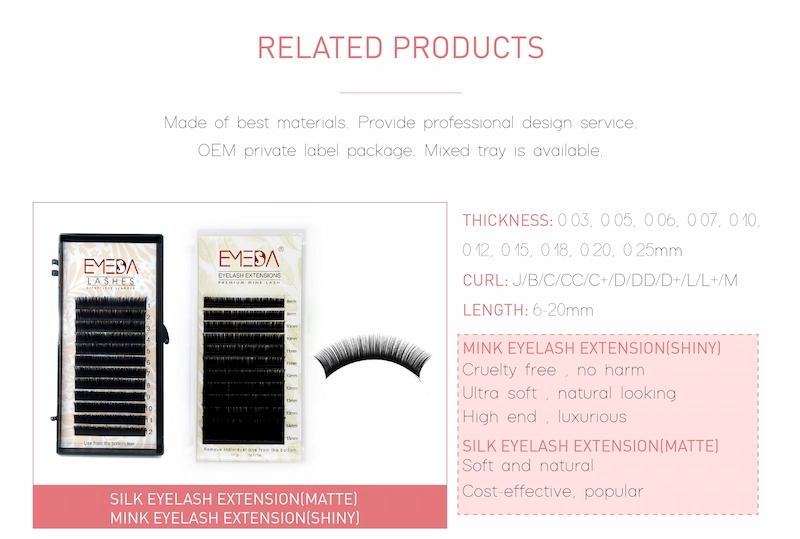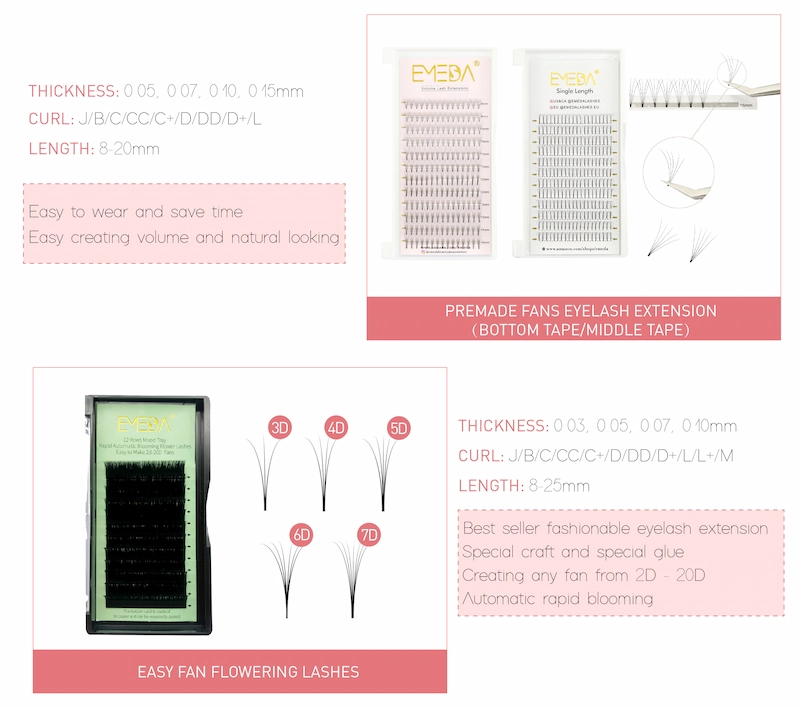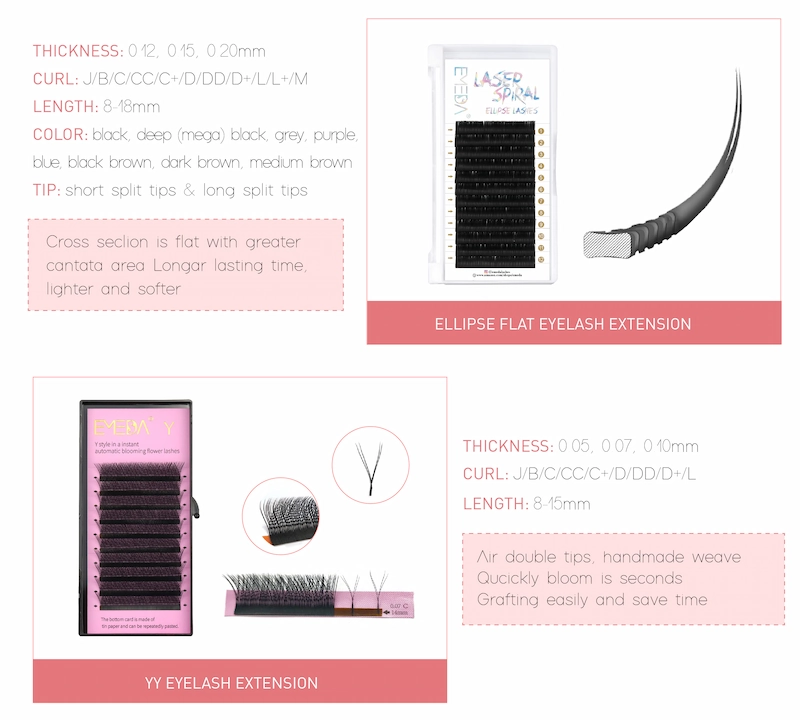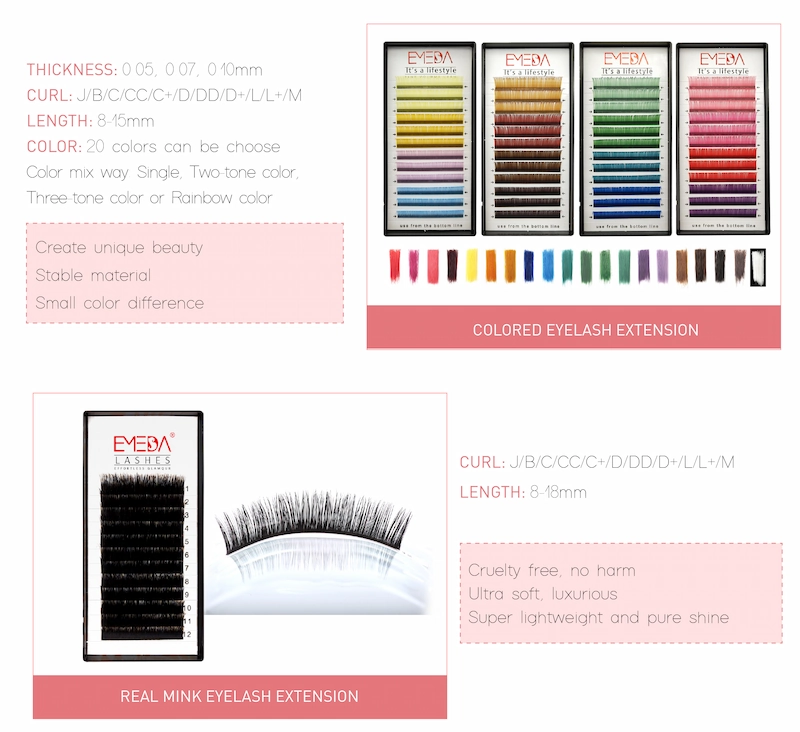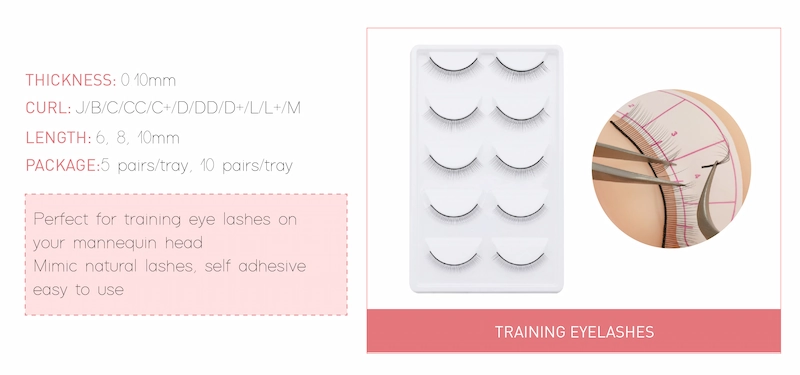 Related Eyelash Extension Tools
We have many eyelash extension tools that you can use with eyelashes. Such as eyelash glues, primer, bonder, gel remover and tweezers.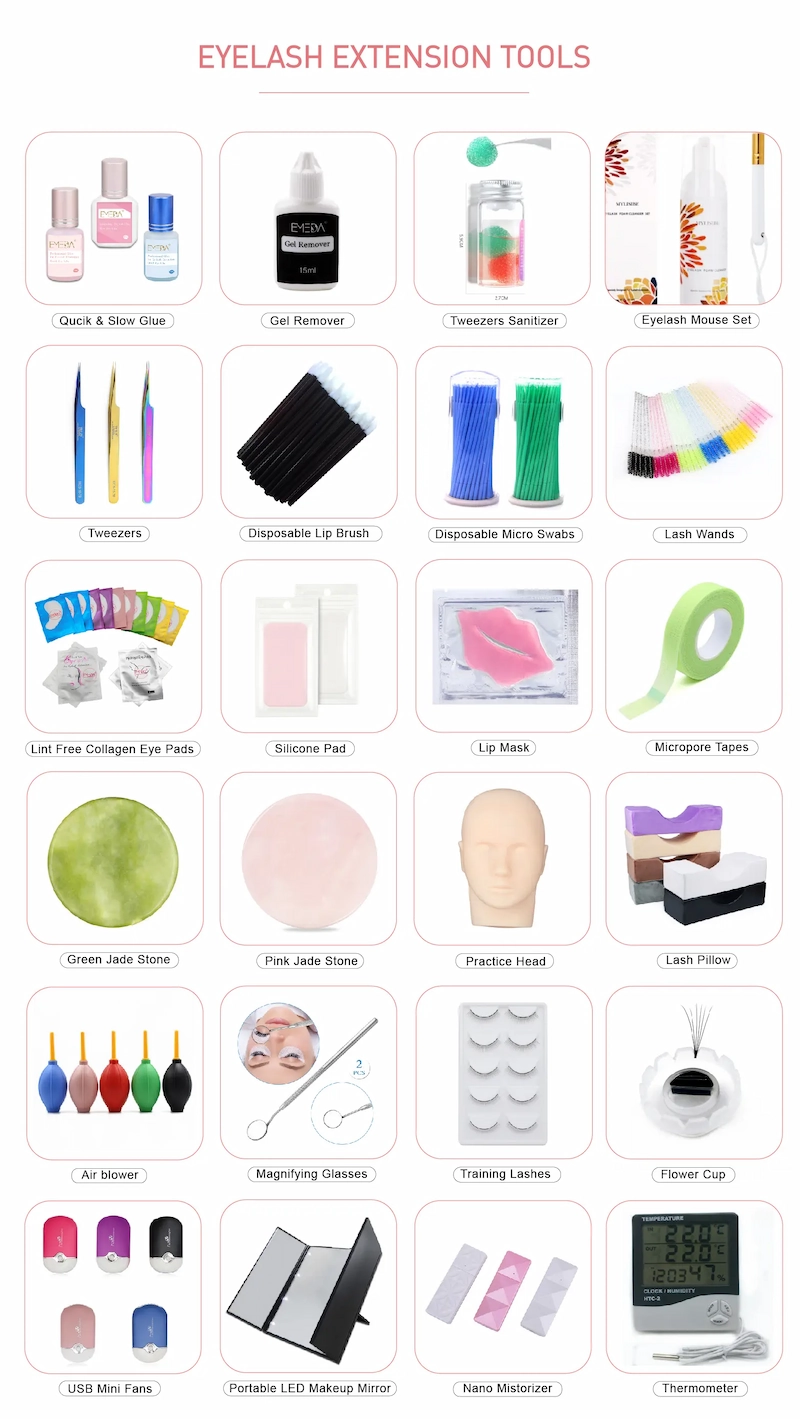 Payment and Shipping
We accept Paypal, VISA, T/T, WESTERN UNION, MasterCard, MoneyGram and othe payments. Meantime, we have different shipping ways, such as UPS, DHL, FedEx, or EMS.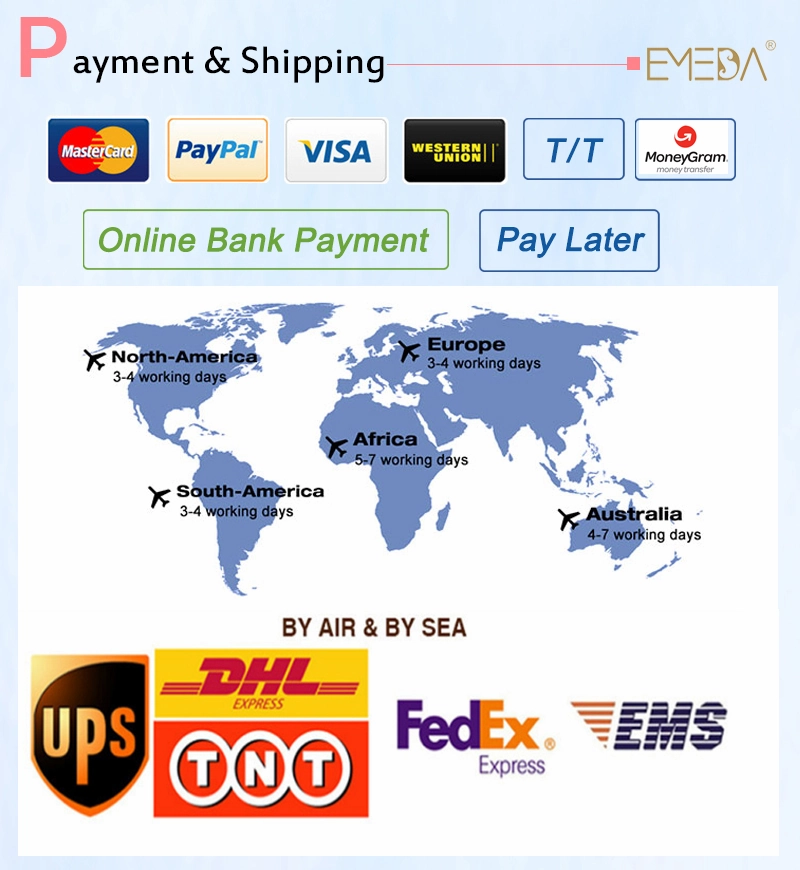 Customer Feedback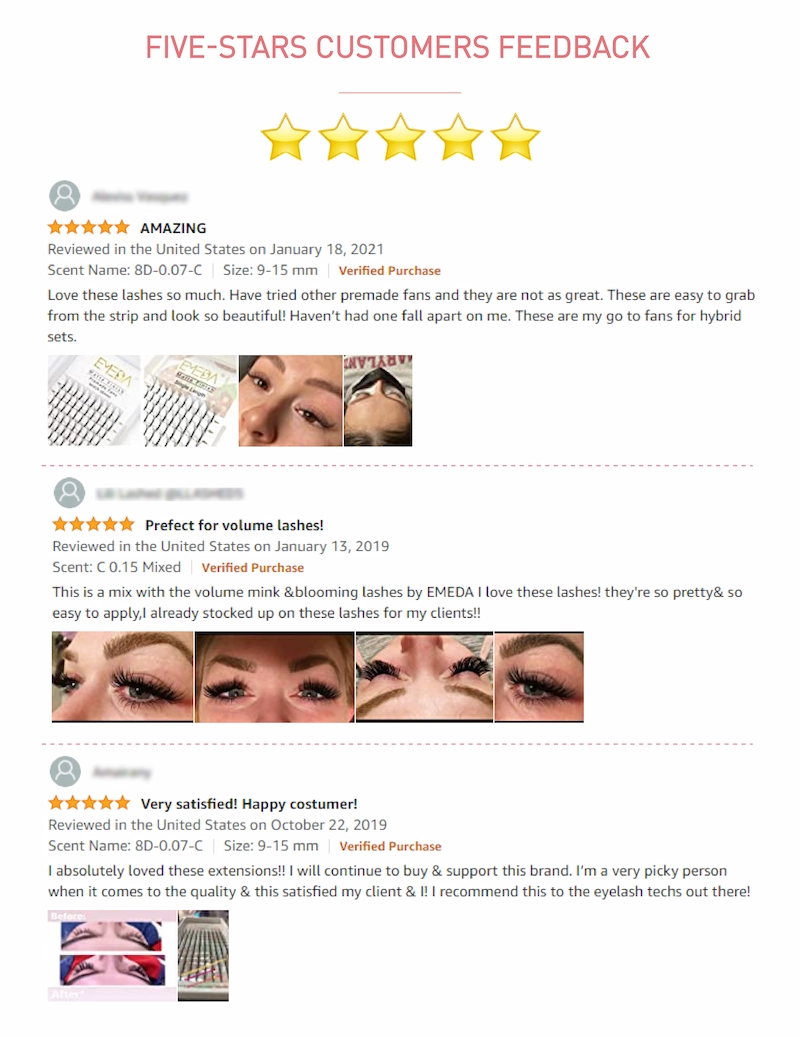 If you are intereted in any our products, please do not hesitate to cantact me!
Email: minklah@emedaeyelash.com
Whatsapp: +86 13573804926