Private Label Human Hair Eyelashes
Human Hair Detail:
| | |
| --- | --- |
| Name | private label human hair eyelashes L56 |
| MOQ | 200packs/Style for non-human hair eyelash,100 packs/style for human hair |
| Material | Human fur |
| Brand | EMEDA |
| Curl: | J/B/C/D/L |
| Thickness: | 0.07/0.10/0.12/0.15/0.18/0.20/0.23/0.25mm |
| Length: | 5-17mm or mix |
| Place of Origin | Shandong, China |
| Payment term | T/T,Western Union,Paypal,Money Gram,Escrow, Bank account ect. |
| Delivery time | 10-12 days for sample order; 30-40 days for customized order |
| Service | OEM and ODM welcome |
| Package | Poly bag or box, Custom packaging is available |
| Our products | fox fur eyelash/ paper eyelash/ human hair eyelash/ horse fur eyelash/ synthetic hair eyelash/ feather eyelash/ Japanese and south Korean eyelash/ European and American eyelash |
"Private Label Human Hair Eyelash" refers to the practice of creating a brand or line of human hair eyelashes that is customized and labeled specifically for a private business. Here's an overview of what this term entails:
Private Label: Private labeling involves partnering with a manufacturer to produce products under your brand name and label. In the context of "Private Label Human Hair Eyelash," it means that a company collaborates with a manufacturer to create human hair eyelashes that are uniquely branded for their business.
Human Hair Eyelash: Human hair eyelashes are false eyelashes made from real human hair. They are often favored for their natural appearance and texture, as they closely mimic the look and feel of natural lashes.
Benefits of Private Label Human Hair Eyelashes:
Branding: Private labeling allows businesses to establish their own brand identity in the eyelash market. This can include choosing the packaging design, logo, and overall presentation.
Customization: Businesses can work with the manufacturer to customize the human hair eyelashes according to their preferences. This includes selecting the lash styles, lengths, thickness, and even curvature.
Quality Control: Private labeling enables businesses to maintain better control over the quality of the eyelashes being produced. They can ensure that the products meet their standards and specifications.
Exclusive Products: Private label products are unique to the business and cannot be found under other brand names, which can help differentiate them in the market.
Profit Margins: Private labeling can often lead to higher profit margins compared to reselling existing products, as businesses have more control over pricing and production costs.
Considerations:
Manufacturer Selection: Choosing a reliable and reputable manufacturer is crucial. Research the manufacturer's history, quality standards, and past work before entering into an agreement.
Lash Quality: Ensure that the human hair used for the eyelashes is of high quality and ethically sourced.
Regulations and Standards: Familiarize yourself with any regulations or standards in the cosmetics industry to ensure compliance with labeling, ingredient, and safety requirements.
Packaging: The packaging of your private label human hair eyelashes is an important aspect of branding. Consider packaging design, materials, and information that will resonate with your target market.
Marketing: Once your private label human hair eyelashes are ready, create a marketing strategy to introduce and promote your brand to potential customers.
Private label human hair eyelashes offer businesses the opportunity to enter the beauty industry with a unique product line that reflects their brand identity and vision. It's important to approach private labeling with careful planning, research, and attention to detail to ensure a successful venture.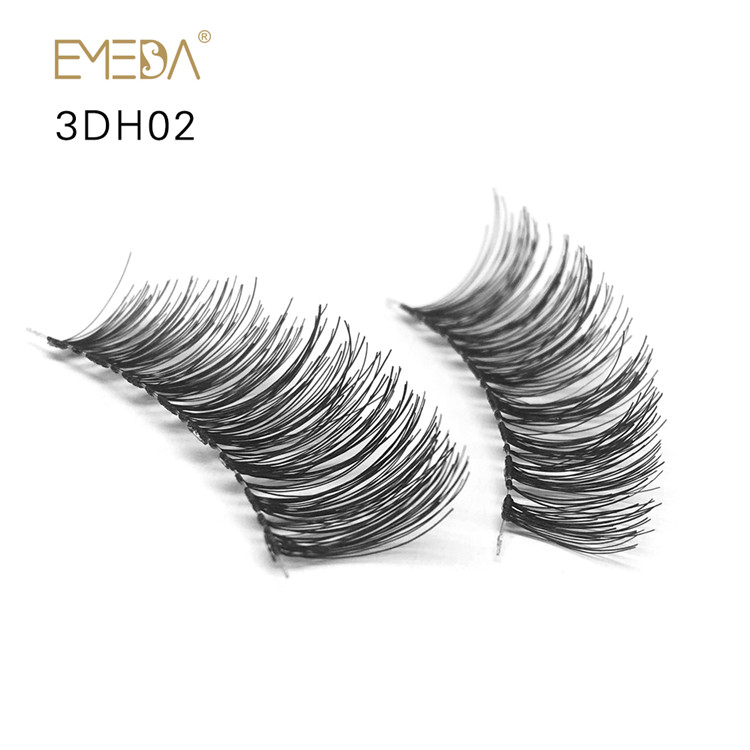 The 3d human hair eyelases are made from 100% real human hair and made from experienced workers.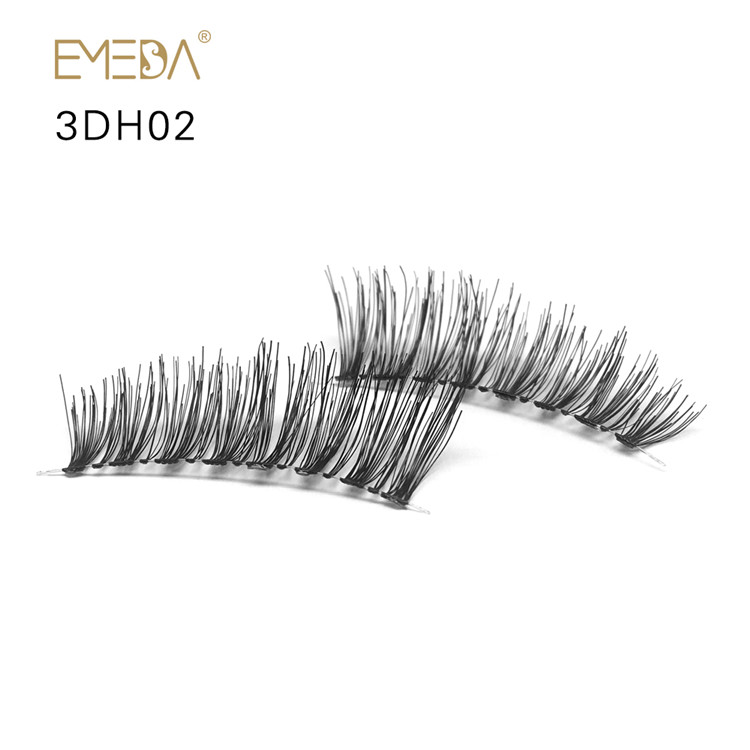 With the premium eyelash glue, easy to peel off, no kink, to save the applying time.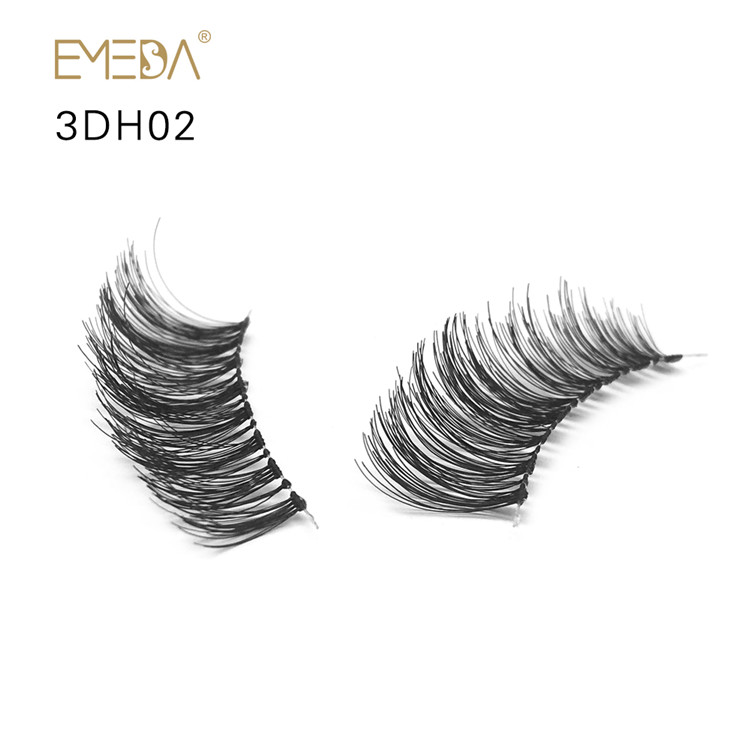 Professional design, the adhesion parts are not kink, so that removal becomes easier, shorten the wear time greatly .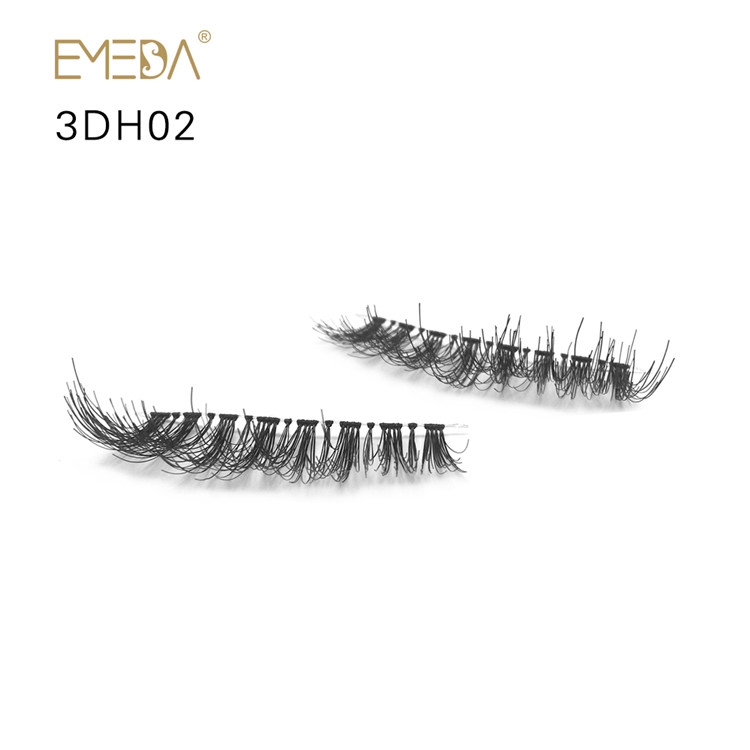 How to Private Label Human Hair Eyelashes?
Private labeling human hair eyelashes involves partnering with a manufacturer to create a customized line of eyelashes under your own brand name. Here's a step-by-step guide on how to private label human hair eyelashes:
Research and Planning:
Understand the eyelash market, your target audience, and competitors.
Determine the unique selling points of your brand and the specific type of human hair eyelashes you want to offer.
Manufacturer Selection:
Research manufacturers that specialize in eyelash production, especially those experienced in human hair eyelashes.
Look for manufacturers with a good reputation, quality control processes, and ethical sourcing practices.
Request samples to evaluate the quality of their eyelashes.
Customization:
Collaborate with the manufacturer to customize your eyelashes. Specify the length, thickness, curl, and styles you want to offer.
Choose the type of human hair (mink, silk, etc.) you want to use for the eyelashes.
Packaging Design:
Create or hire a designer to create your packaging. This includes the box design, logo, color scheme, and any additional branding elements.
Ensure that the packaging reflects your brand identity and appeals to your target audience.
Labeling and Branding:
Decide on your brand name, logo, and any other information you want to include on the packaging.
Create a label that adheres to any legal requirements for cosmetics labeling.
Lash Testing:
Test the eyelashes to ensure that they meet your quality standards, such as durability, comfort, and appearance.
Legal Considerations:
Familiarize yourself with cosmetic regulations and standards in your region to ensure your products comply with safety and labeling requirements.
Production:
Work with the manufacturer to produce your customized human hair eyelashes according to your specifications.
Provide them with all the necessary design files and branding materials for packaging.
Quality Control:
Establish a quality control process to ensure that the eyelashes meet your standards before they are packaged.
Packaging and Labeling:
Your manufacturer can package the eyelashes according to your design and branding specifications.
Ensure that all labeling and packaging elements are accurate and aligned with your brand.
Marketing and Launch:
Develop a marketing strategy for your private label human hair eyelashes, including online and offline channels.
Build anticipation through social media, email marketing, and other promotional methods.
Launch your products with a clear message about your brand's value and uniqueness.
Distribution and Sales:
Decide how you'll distribute your eyelashes – through your own website, retail stores, or partnerships with beauty boutiques.
Set pricing that aligns with your brand positioning and covers production costs.
Customer Support:
Provide excellent customer support to address inquiries, concerns, and feedback.
Establish a channel for customers to reach out to you with any issues.
Remember that private labeling requires careful attention to detail, from the quality of the product to the branding and marketing strategy. Working closely with your chosen manufacturer and investing time in planning and execution will help you create a successful private label human hair eyelashes brand.
Packaging&Delivery:
● Packaging:Our cooperated package factory is very professional, can design the box as your preference. We will check each box quality too when packing.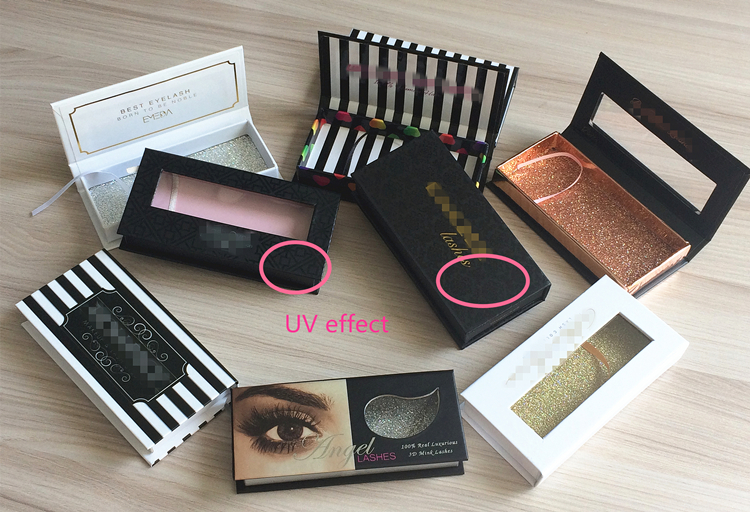 ● Delivery: DHL, FEDEX, UPS, sea shipping and so on.

Exhibition Information:
In 2015, Participated in Japan Exhibition and released new products.
In 2016, Participated in Hong Kong Exhibition, and developed business exchanges with customers.
In 2017, Participated in Tokyo Exhibition, released new products, and highly recognized by the Japanese market.
In 2017, Participated in Hong Kong Exhibition, carried out exchange activities and shared with top foreign buyers.